Uniform
At Deptford Green School we encourage and celebrate individuality, cultural differences, and acceptance for all. An example of this is our school uniform, which was chosen by our school council and is an important part of creating a school identity in which we all can take pride. The uniform is the public face of the school and acts as both a unifying element and a point of recognition of our school and the wider community, at the same time preparing our students for life away from the school by learning the importance of developing a sense of self. By wearing the full school uniform, students at Deptford Green School demonstrate, visually, that they belong to the school community. Their uniform is a symbol of equality, identity and allegiance to our school, our aims and vision.
Expectations
Every member of the school community should be clear about the uniform requirements and fully committed to operating within this policy.
Every student has a responsibility to wear the full school uniform at all times, when the school is in session, and on their journey to and from school.
Every parent/carer has a responsibility to ensure that their child has a full school uniform and wears it correctly each day.
Every member of staff has a responsibility to check students' uniforms, intervening in the case of any infringement, and ensuring that it is rectified.
Any student who fails to adhere to our schools uniform policy without good reason may either receive a sanction, be sent home or placed with a member of the pastoral team until parents/ guardians have been contacted.
Key Tips for Parents
Help your child by creating a routine to ensure they are equipped and ready for school everyday.
Learn the uniform requirements and equipment requirements.
Make sure when they leave you in the morning they are dressed correctly and smartly.
Make sure your child's name is printed in all items of uniform.
Encourage them to change out of their uniform straight after school.l
Make sure everything is clean and ready to put on each evening.
Make sure that a full PE kit is taken to school the day it is needed.
The school uniform for all students is to be worn without variation.
Our school uniform was chosen by our school council, and it is an important part of creating a school identity in which we all take pride.
What To Buy
Deptford Green School has three suppliers for many of the uniform items:
Bailwood
246 Lewisham High St
SE13 6JU
Wearabouts Schoolwear
99 Sydenham Rd
SE26 5UA
https://wearaboutsschoolwear.co.uk/
White Hall Clothiers
77 Camberwell Road
SE5 0EZ
https://www.whitehalldirect.co.uk/about-us/
Those items marked with an asterisk (*) below may ONLY be purchased from the supplier and may not be replicated by high street brands or home-made products. Parents/carers must ensure that they have purchased the relevant asterisked items for their child, from the school, prior to their start at the school.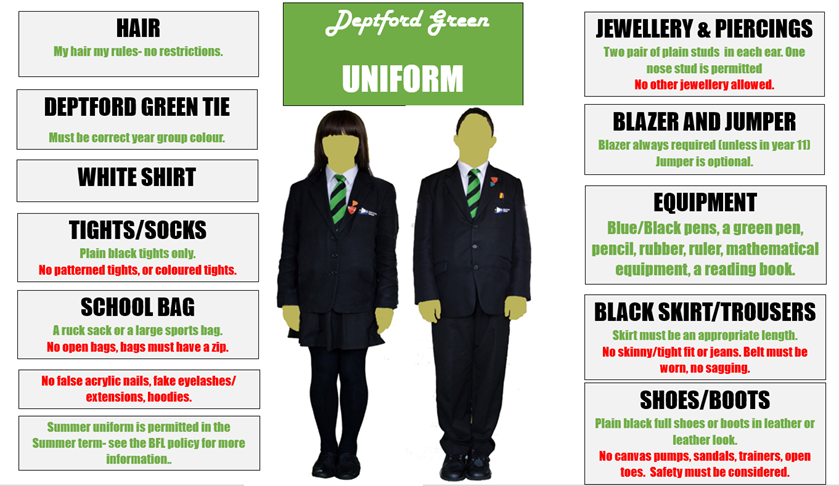 All items of clothing should be clearly labelled with the student's full name.
All Students
Blazer - A black suit style jacket with small Deptford Green logo (compulsory- must be worn at all times including when wearing summer uniform)*
Trousers - These must be black (tailored uniform type, not denim, lycra or "skinny" styling)
Skirt - Black (tailored, knee-length, not tight-fitting and allowing freedom of movement).
Shirt - White shirt with top button for wearing with a tie (not fitted blouses, PE type or denim)
Jumper - A black V-neck pullover with a small Deptford Green logo. Optional for winter*
Tie* see year group colours below
Shoes - Black full shoes or boots not gym shoes, trainers, sandals, sling back shoes or canvas pumps.
Bag a rucksack or a school bag big enough to carry all equipment and school books
You will need another bag/larger bag for the days when they have PE/Food Technology (for which they will be given a list of ingredients). Unfortunately the school building has no lockers.
Ties
For the academic year beginning September 2023 - the ties for year groups will be as follows:
Year 7 - Green
Year 8 - Red
Year 9 - Purple
Year 10 - Light Blue
Year 11 - Dark Blue
Summer Uniform
The Headteacher will notify parents when pupils are able to wear summer uniform which consists of:
*A white school polo shirt with the school logo embroidered onto it. Students must only wear the official polo shirt.
*A school sleeveless jumper with a plain white shirt underneath, no tie required (optional).
Black tailored shorts.
Students who wear the summer uniform do not have to have a blazer with them. However, if they are cold in school then they should only cover the polo shirt with a school blazer or a school jumper.
For all of the other items (skirts, trousers, shoes, bags etc) the expectations are the same as above.
Blazers are compulsory except Year 11 students
PE Uniform
The PE Uniform comprises of:
Black polo T-shirt with school logo*
Plain black shorts or jogging bottoms
Trainers (which must not be worn until the PE lesson begins)
Sweatshirt*: Black round neck sweatshirt with school logo. Optional for winter.
PE kit is only permitted in PE lessons. If a student is injured, fasting or unable to participate they should still bring kit and they will take up another role within the lesson such as umpire or coach.
Further Details:
A rucksack or sports bag is required - this must be big enough to carry all of a student's books, equipment and PE kit when required.
No hoodies are allowed to be worn in school at any time. No headwear is allowed at any time unless for religious reasons. No sunglasses are permitted inside the school building.
Students are allowed to wear a maximum of two studs in each ear.
Students are permitted to wear a nose stud only. No other facial piercings are allowed due to health and safety during practical subjects.
My hair my rules - there are no restrictions on hair length or colour.
Make-up must be kept to a minimum.
False/acrylic nails are also not allowed due to health and safety during practical subjects.
Long fake eyelashes/eyelash extension are not allowed.
Headwear of any kind is not permitted in the building unless for religious reasons and then should follow the school colours of black, white or green. Headwear is only permitted in playgrounds during extreme weather. Baseball caps are not appropriate for school and should not be worn anywhere on site.
Outdoor clothing should be removed immediately upon entering the classroom on the ground floor or before leaving the ground floor.
Sunglasses are not permitted in school including on top of the head.
Basic Required Equipment
All students must have a bag with them at all times. It must be suitable for carrying books, their planner and their equipment. We highly recommend you purchase our Deptford Green School bag. Students must have:
A blue or black pen
A green pen
A pencil
An eraser
ruler
coloured pencils
mathematical equipment including a calculator and planner
A reading book must also be carried by all students
You will need another bag/larger bag for the days when they have PE/Food Technology (for which they will be given a list of ingredients). Unfortunately the school building has no lockers.
Mobile Phone Policy
We understand that pupils will have their mobile devices with them in school but they must not be seen or heard throughout the day. The school cannot accept responsibility for any mobile device brought on to the school premises and in possession of a student. If a mobile phone or Air pods and headphones are either seen or heard, they will be confiscated immediately, stored in a safe and returned to the student at the end of the day. If a student either initially refuses to hand over their phone or their phone is confiscated for a second time, the parent/carer will be asked to collect the confiscated item. If this is not possible then the parent/carer and the school will agree an alternative consequence.
If a pupil has their mobile phone/headphones taken from them repeatedly they will be expected to hand the device in at the start of each day and collect, it at the end of each day for a length of time agreed by the parent and the school alternatively the parent/carer can agree that the device will be left at home.
Personal Property
The school does not take responsibility for personal equipment brought onto the site – e.g. mobile phones, smart watches, iPods and bikes. In PE lessons there is a system for collecting valuables that must be followed.
The school is not insured for the loss or damage to students' belongings. Parents are advised to ensure that any items of value brought to school are covered by their own insurance policy.
Sports Equipment
Many students like to bring balls to school for break time and pre-school sports. These should always be kept in a bag whilst students are moving around the school. If a student doesn't have a bag we'll ask them to leave it with their pastoral team or their tutor, they can collect it for use at break and lunchtime.
Cycling to School
If a student would like to cycle to school they should ask a member of the pastoral team to a share the code to the bike shed with them. All students cycling will need to bring a lock and they'll need to secure their bike in the shed. Bikes should not be left unlocked and should not be left anywhere else other than in the bike shed. All students cycling to school should wear a helmet whilst cycling to and from school.