Life After DG
After Deptford Green School, our pupils move to a large number of sixth forms and colleges. The diversity of our students, the range of their talents, aptitudes and interests and our location means that they have a variety of different options open to them. We have good relationships with a variety of providers that meet their needs.
The two most popular sixth form colleges in the vicinity are Christ the King Emmanuel in Lewisham and Christ the King Aquinas in Brockley where pupils can study academic and vocational courses. Some students choose to study at schools with sixth forms with Bacons College, Haberdasher Aske's Hatcham and Prendergast Hilly Fields all popular.
Students interested in a college environment and vocational courses typically move to Bromley College, Lambeth college, Westminster Kingsway or City of Westminster.
Every year, pupils also choose to attend sixth forms in Kent Grammar Schools or Harris Westminster and have had students take up scholarships at Colfe's and Blackheath High.
Unsurprisingly, in a school where performing arts are so popular, Deptford Green students are regularly selected by to The Brit School and Elam.
ALUMNI
If you are a former Deptford Green School student, we would love to hear from you!
Your experiences could help to inspire, challenge and motivate current Deptford Green students. You could help them to feel more confident in school and when making decisions about their careers and their future.
Let us know where you are now, share your journey with younger students, feature in posters around school, come back and visit or simply stay connected.
You can either fill in the form on this link: https://forms.gle/Ssn8qgrLWFyGXC4g6
or join our Future First Alumni Network here: https://networks.futurefirst.org.uk/signup/deptford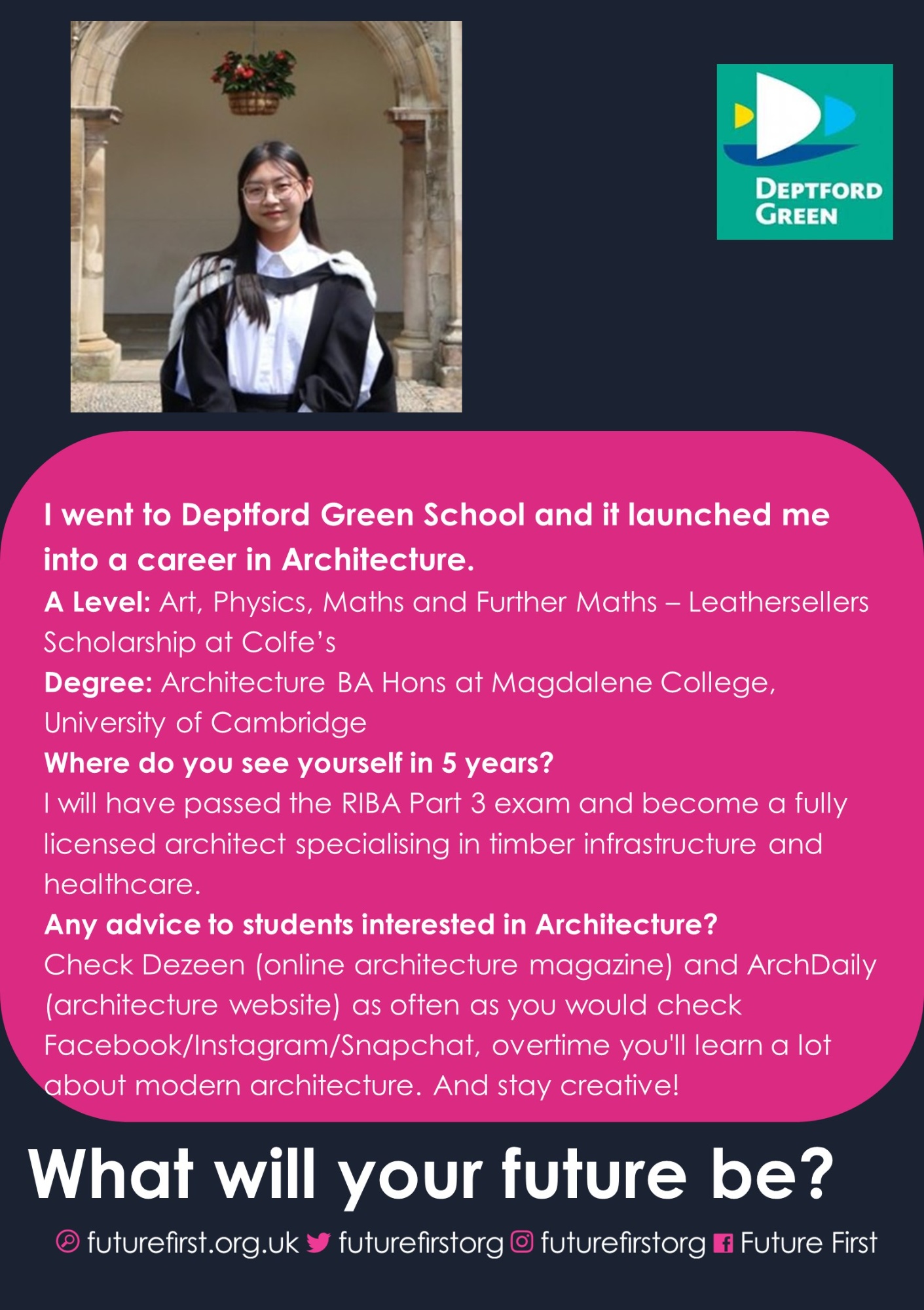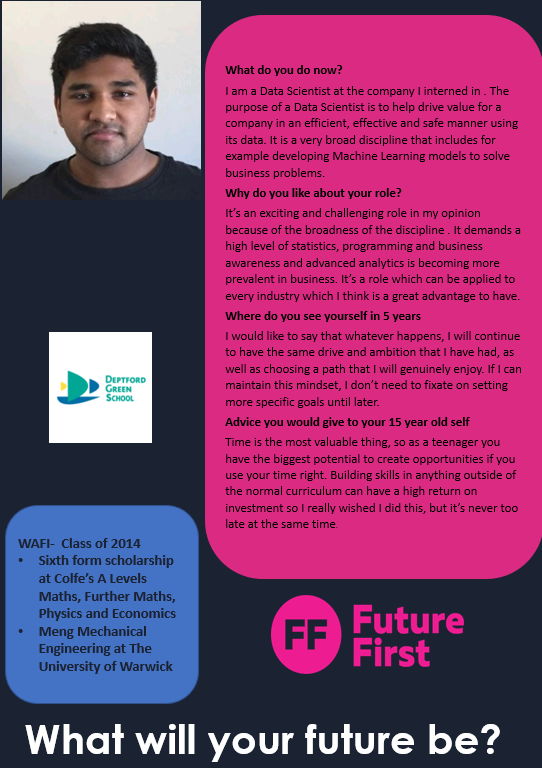 No matter how much or little time you can spare, your participation will be invaluable as well as an opportunity for you to network.
You can choose how and when you help:
Attend an event: evening careers fair, speed networking morning…
Mentor pupils in school
Help prepare pupils for interviews and the world of work
Speak to pupils: in assembly or at lunch or in a lesson, you could share your expertise in a subject or your experience of university or apprenticeship.
Offer a work experience placement
Provide a picture and testimonial for our 'wall of fame' and website
It doesn't matter when you left us, whether you're in further or higher education or employment, whether you still live nearby or have moved far, far away, get in touch here:
cnembhard@deptfordgreen.co.uk or 020 8469 4896 or complete an alumni portrait on this link: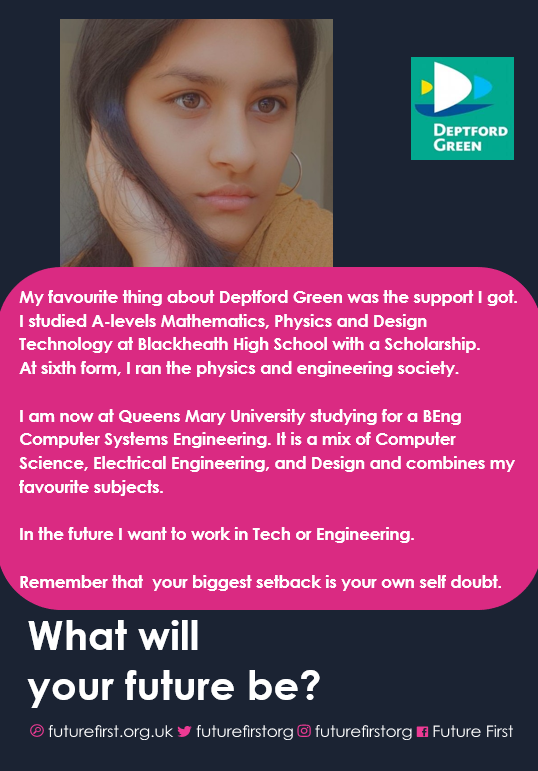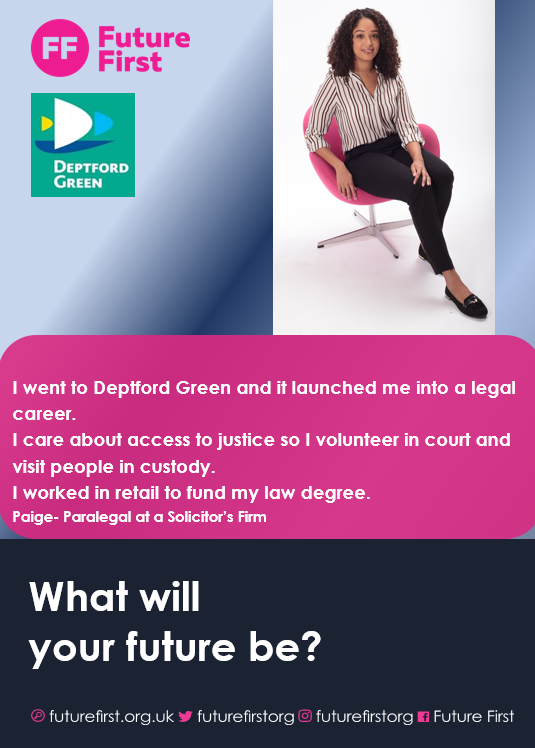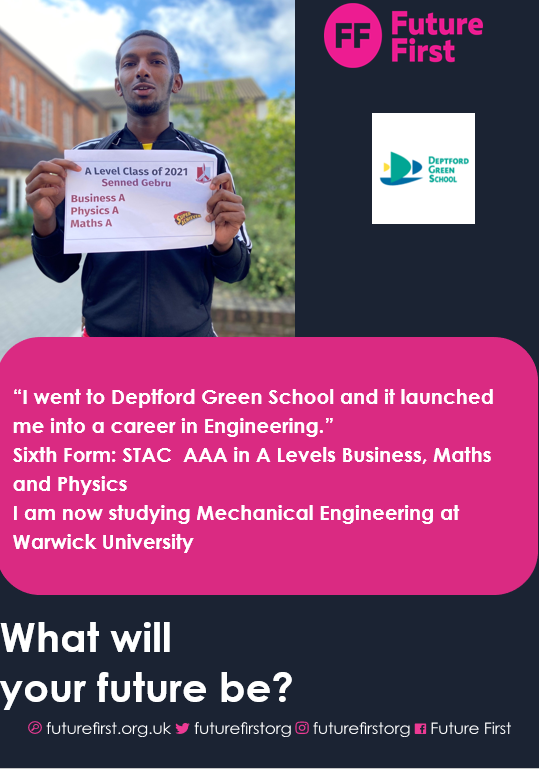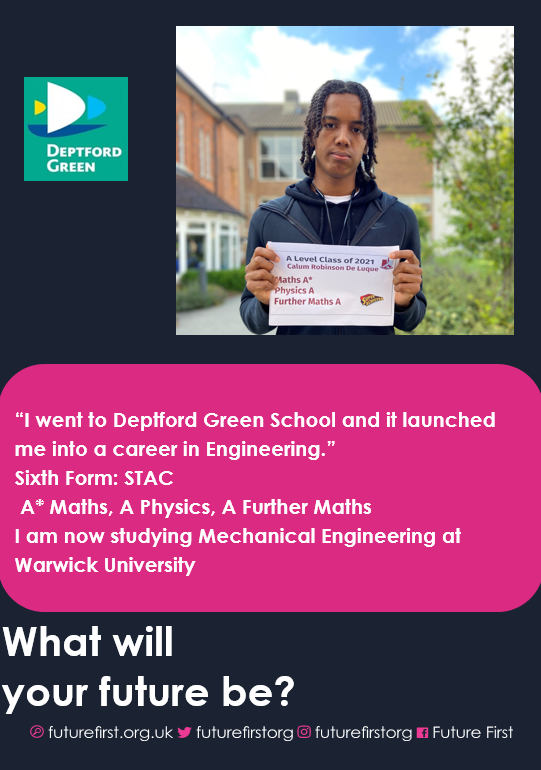 FOR INFORMATION ABOUT COLFE'S, BLACKHEATH HIGH click or to discuss any scholarships applications, do not hesitate to contact Ms Nembhard on 0208 469 4896 or cnembhard@deptfordgreen.co.uk
Scholarship Opportunity Alert for Ex-Deptford Green Students applying to University
If you are an Ex-Deptford Green student, applying to university and you and your family live in a L&Q property, you could be awarded £6,000 for three years to contribute towards your student fees.
Considering the Cost-of-Living Crisis and university costs, this amount could be life-changing. Please share with young people who could apply.
To apply:
Complete the Expression of Interest form online here: Turlogh O'Brien scholarship programme | L&Q Group (lqgroup.org.uk)
If eligible, you will then receive a call and be invited to complete an application form, leading to interviews before final selection.
*The closing date for Expression of Interest is 3rd January 2023
Eligibility:
Students should be applying for university entry in 2023
Students can live out in university accommodation or at home with their family and attend any university but must be included on an L&Q tenancy as a dependant and will need to provide the tenancy number from the head of the household.
Good luck!