Film Studies
"Cinema is a matter of what's in the frame and what's out."

Martin Scorsese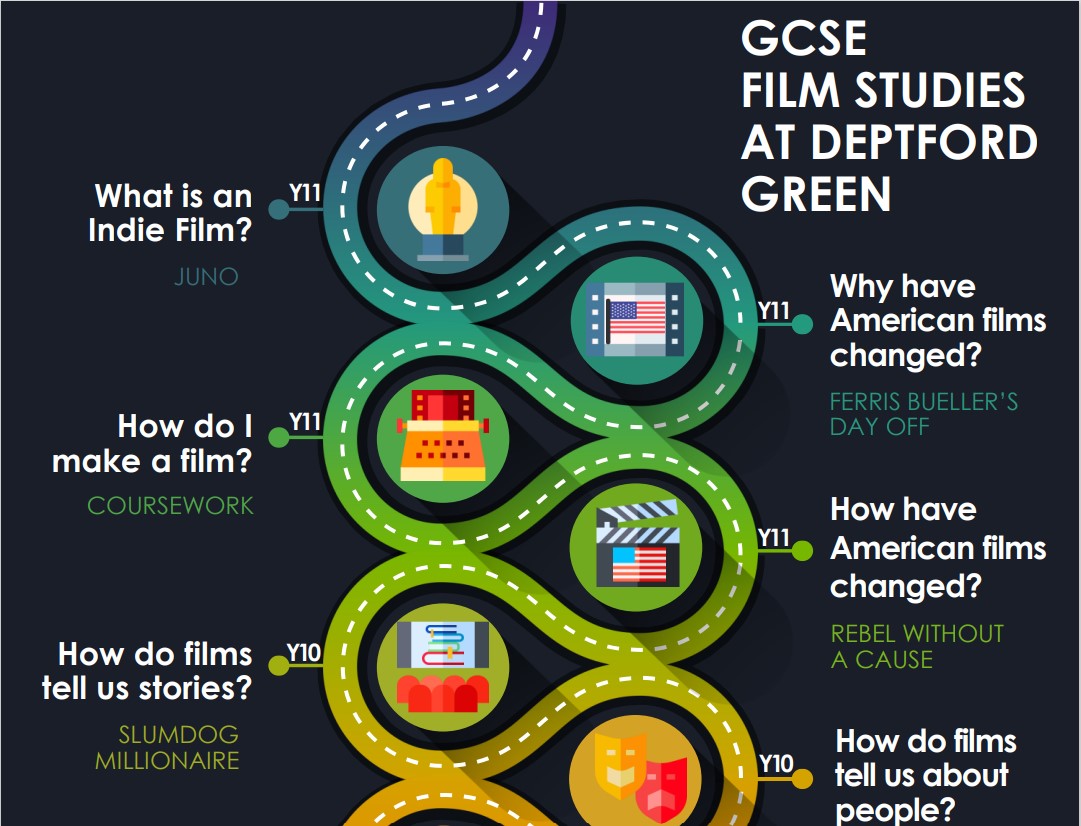 GCSE Film Studies Learning Journey
CLICK HERE
Context
Film Studies is an exciting option subject offered at Deptford Green School. It is a creative subject that encourages analysis and critical thinking – both skills highly valued by universities and employers. Film Studies is an intellectually demanding subject, but at the same time it is highly accessible and great fun to study.
Film Studies encourages students to become more confident and critical in their film consumption; teaching them how to deconstruct and decode film texts and appreciate how they affect viewers and audiences.
Film Studies fits particularly well alongside arts subjects like English, Drama, Art and Humanities, but also offers breadth and contrast next to subjects like Maths, ICT and the Sciences. If you have an interest in popular culture, technology, film and literature then Film Studies may well be for you.
KS4
students in Years 10 and 11 follow the WJEC/ Eduqas Film Studies GCSE specification. Students have 2.5 hours of study each week. This is a two-year, linear GCSE course with two 1 hour 30-minute exams at the end of Year 11 and a practical project, which is non-examined, to complete in Year 10. The non-examined assessment (coursework) requires students to write a screenplay and shooting script for a film sequence of a specified genre. This is worth 30% of the students' total mark, whilst the exams are worth 70%. Award grades are numerical – from 1 (lowest) to 9 (highest). There have been no changes to the course students study due to COVID-19.
Students will study a range of high-quality films for their exams, which at present include:
A British film: Attack the Block
A global English-language film: Slumdog Millionaire
A non-English language film: Let the Right One In
A US indie film: Juno
Two Hollywood films from different time periods, as the basis for a comparative study-Ferris Bueller's Day Off and Rebel Without A Cause
Class Activities and Enrichment
Students will have full access to all class materials and lessons taught via Microsoft Teams. Revision guides covering the entire course will also be available to all students. Arrangements will be made for students to access films from home.
Students enjoy a number of contrasting and stimulating films as part of the curriculum and are encouraged to watch a variety of films outside of school as weekly homework tasks. Additional viewings of interesting films out of lesson time are also held after school in Film Club, which students are encouraged to attend (COVID restrictions apply).
Viewing and reading lists are provided for students, with recommendations to help them broaden their cinematic knowledge. Students are encouraged to share their viewing experiences and discuss their critical viewpoints with their peers about films seen at the cinema or at home. New films and forthcoming projects are also discussed in lessons, to keep students' fingers on the pulse of trends and new projects in the film industry.
Mr TG Watts: Head of Film Studies twatts@deptfordgreen.co.uk