English As An Additional Language (EAL)
Deptford Green is a culturally diverse school. Over 50 languages are spoken at home among our pupils, who come from different ethnic backgrounds.
Top 15 languages spoken at Deptford Green
Arabic
Cantonese
Dutch/Flemish
French
Italian
Lithuanian
Mandarin
Polish
Portuguese
Somali
Spanish
Tamil
Turkish
Vietnamese
Yoruba
The English as an Additional Language (EAL) department's aim is to support and extend the language development of all bilingual/multilingual pupils. For early stage language learners, we endeavour to equip them with basic literacy skills through an intensive induction programme. For more advanced language learners, we support them in their mainstream classrooms in order to ensure that they can fully access core National Curriculum subjects, particularly in English, Mathematics, and Science.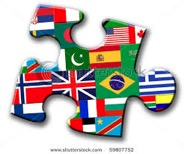 We want all EAL pupils:
To feel welcome, motivated and supported by the department and the school.
To enjoy learning English
To be increasingly confident, competent and independent listeners, speakers, readers and writers
To make good progress in English in relation to challenging and achievable targets.
To have access to the curriculum in all subject areas
To develop further their first or other language
Head of Department contact details
The EAL Department is run by the EAL Coordinator Mr Almeida alongside Ms Fernandez (High Level Teaching Assistant).

Mr Fabian Almeida
lalmeida@deptfordgreen.co.uk

Ms Laura Fernandez
lfernandez@deptfordgreen.co.uk

Our department line is: 07956148469
Support within the EAL department
For students who are new to the UK, we have developed a support system which we hope will help the students to settle in as quickly as possible:
On arrival: We do the admissions interview with new EAL arrivals (usually if they are Spanish or Portuguese speakers); then we test students' English and keep them with us in EAL for lessons until they have a full timetable. We take this opportunity to get to know more about the additional issues that they may have as they are usually new in the country (e.g., SEN conditions, family background, cognitive and emotional problems, economic issues, etc.) We also give parents our EAL contact (if they are not fluent in English) so they can contact us if they need to get in touch with the school.
Buddies: new students are introduced to a buddy in their tutor or year group who look after them while they settle in. The buddies show their new friends around the school and take care of them during breaks and lunchtimes so that they are never alone. The "buddies" are always good role model students and fluent in English.
EAL Staff: The new students are introduced to the EAL staff who will be working with them. As well as developing and improving their use of English, we attach great importance to the students' well-being. We work from a room which is usually open to students before school, at break time and lunchtime.
Types of Support: Support is offered at a range of levels, and individual needs are considered. Depending on their level of English, students may receive individual, or small group lessons to develop fluency in reading, writing, or speaking, always following the mainstream TMP (term medium plan). All students receive support in our EAL Homework Clubs, at lunch time.
Extracurricular activities: It is important for us to encourage our students to take part in a variety of extracurricular activities. We organise educational visits to museums and other institutions around London.
Support in Exams: If the student has been in England for less than two years, they may be allowed to have 15% extra time in their exams, and to use a bilingual dictionary (for most subjects). Students can also have access to a supported small room rather than sit in the main exam hall.
EAL Curriculum
Beginners Induction Programme (KS3 and KS4)
Newly arrived English beginners attend a tailored induction programme. A beginners' induction programme is designed to provide pupils with the basic skills necessary for participation within the mainstream. The programme covers basic functional skills as well as topics within the NC strands.
Withdrawal Groups (KS3 and KS4)
The EAL specialist work with abridged materials on the topics that are being covered in mainstream lessons.

Resources used:
Graphic Novels
Audibles
Abridged Versions
Summaries
Bilingual Versions
Comics
Booklets
Revision guides
Worksheets
Movies (with subtitles)
Knowledge Organisers
Writing/speaking programs
Pastoral Support
As our relationship with the EAL students is generally close, they tend to disclose things to us that they might be hesitant to do with other staff members. Also, we have developed close relationships with parents, as we liaise them to DGS. As a result of all this, we also do Pastoral work.
Translation and Interpreting
We translate important letters for parents and interpret in meetings with parents where needed (safeguarding, behaviour, attendance, etc)