Challenge at Deptford Green
Statement of intent:
At Deptford Green School we provide a creative range of opportunities to ensure our more able, gifted and talented learners are able to achieve their potential and maximise their progress. All practitioners at Deptford Green facilitate learning environments that allows pupils to develop their knowledge, skills and understanding. Teachers prepare students for lifelong learning through developing their bespoke learning habits: leadership, organisation, resilience, initiative and communication. Learners are provided with opportunities to access the highest levels of achievement and attainment through personalised pathways, that match the needs and abilities of every child. The strategies that are in place to help pupils fulfil their potential at Deptford Green, are regularly monitored and evaluated. In addition, teachers are equipped to plan for the most able as this improves good teaching and learning within the classroom, raising overall standards. At Deptford Green we recognise that provision for gifted and talented has benefits for all, inside and outside the classroom. See Figure 1 for further details.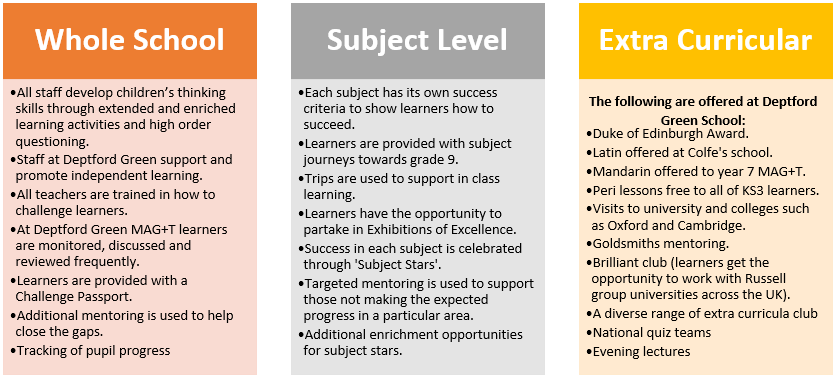 At Deptford Green school we recognise the importance of celebrating the achievements and successes in every subject. Every term Deptford Green's teachers review the learners who meet the criteria to excel in their subject. Those who are found to meet the criteria get perks such as lunch passes. To see our current subject stars and the criteria required to be a subject star please click the link below. Congratulations to our current subject stars!
Please click on the document below.