Attendance & Punctuality
Attending school regularly and being punctual will always be of the utmost importance at Deptford Green School. Good attendance ensures that students take full advantage of all the educational, and extracurricular opportunities that are on offer.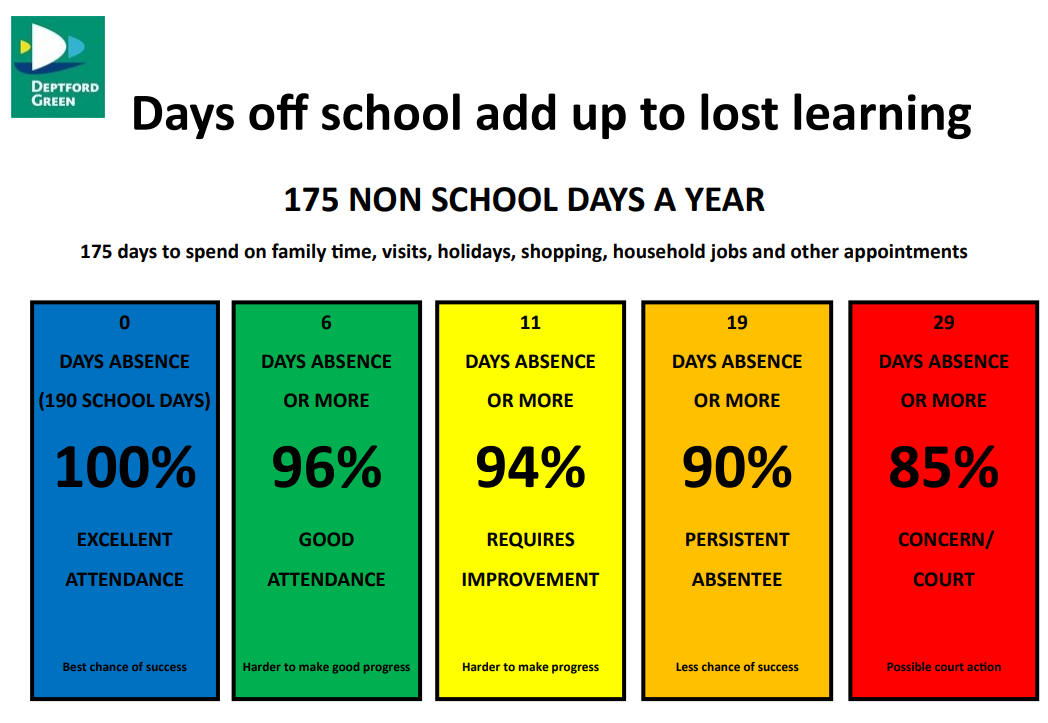 Attendance:
Outstanding Attendance = Outstanding Results
Students need to attend regularly and on time if they are to take full advantage of the educational opportunities available to them at Deptford Green School. Persistent Absences undermines the educational process and will lead to educational disadvantage.
Parent/Carers must call the school before 8.40am to report a student's absence.
We would ask for parents/carers not to arrange family holidays during term. Where unavoidable, requests should be made in writing to the Headteacher well in advance of travel date.
Any medical appointments, where possible, should be made before and after school.
Punctuality:
Punctuality is an important part of self-discipline and is essential to good time management and preparation for adult life. Being late will disturb fellow classmates' learning and could result in missing vital information. Good punctuality is habit forming so it is important that students arrive on time from an early age and show respect to their teachers and peers.
Awards are regularly given for excellent attendance and all students should be aiming to receive these.
If students are late for any reason they must sign in before going to lesson. Persistent lateness will result in detentions and parental meetings.
5 minutes late every day = 3 days lost each year
15 minutes late every day = 2 weeks lost a year
If parents have any concerns about attendance or lateness please do not hesitate to contact the Deputy Attendance Officers, Amy Coffey and Lynn Ascott or your child's Head of Year. We are here to help!
Please visit our policies section to read our attendance policy Policies Section
To request absence during term-time (exceptional circumstances only) please complete the form on link below: