Parents Afternoon Tea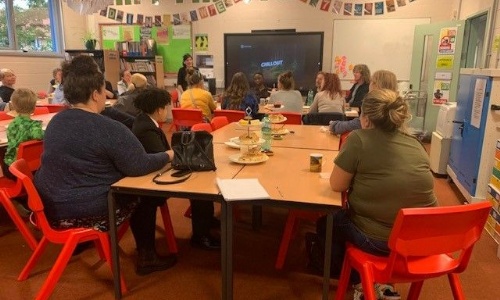 Our first 'Afternoon Tea' (on Thursday 30th October) with Ms Thurston was a real success!
Feedback from parents was very positive. 23 parents/carers attended and there was a genuine sense of excitement for what is to come as parents engage with the school once more after the lockdowns of the pandemic.
Ms Thurston introduced herself to everyone and shared her vision for what she wants for Deptford Green as our new Headteacher. Parents then introduced themselves and brainstormed in groups on how best school and parents can work together and how parents can support the school moving forward. Ideas were raised for fundraising and initiatives to bring both students, parents and staff together more in the future. Parents also were keen to know how they could support the school leading up to any future Ofsted visits.
Don't forget that these will be regular half-termly fixtures. The next one is on Thursday 2nd December at 4.30pm. All parents/carers are welcome… we look forward to seeing you in our library! To book your place, click here Booking Form Head's Afternoon Tea Thursday 02 December.