'Proud to Be' Black History Month – Cultural Evening Thursday 21st October 2021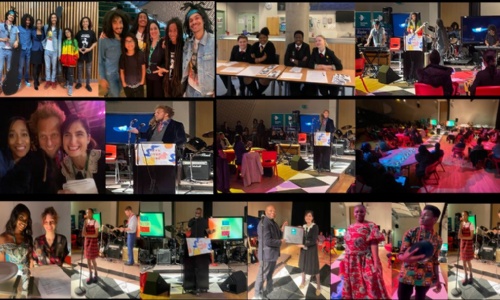 'Proud to Be' was the theme for BHM 2021 and proud we were of a fabulous night celebrating Black achievement and culture with 200 guests which included students, family and friends.
The night started with an art exhibition, a film and stallholders on the ground floor. An opportunity to see the creative work of Deptford Green students, listen to views on being proud to be black and talk to stallholders about entrepreneurship and well-being.
The programme in the Conference Hall kicked off with toe tapping roots reggae music by 'The League of Rebels', a London baseband of five brothers. It was a fantastic way to open the evening. This was followed by 2 guest speakers, Leila Thomas, Chief Executive Officer of Urban Synergy and David Neita, a Human Rights lawyer and Poet and Playwright. Their inspirational speeches engaged the audience and gave us food for thought.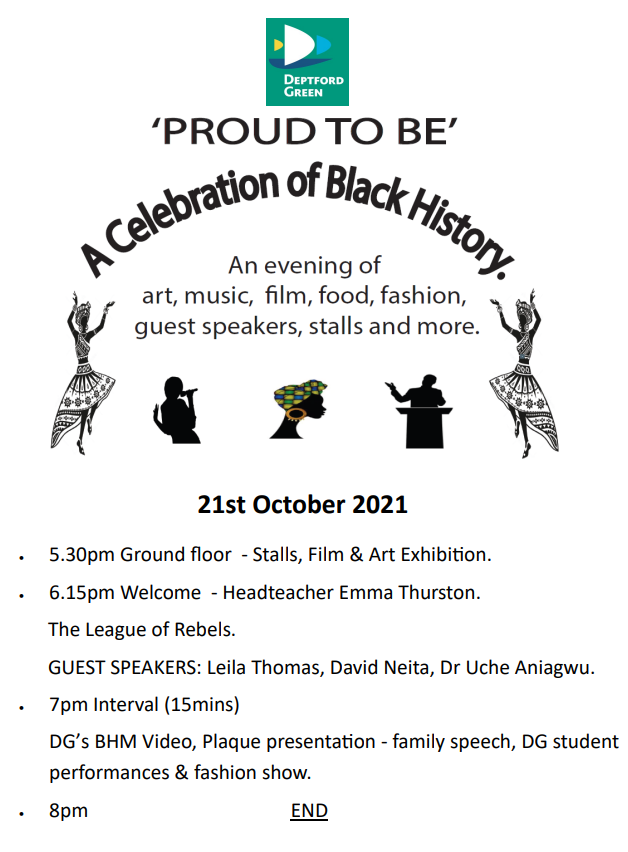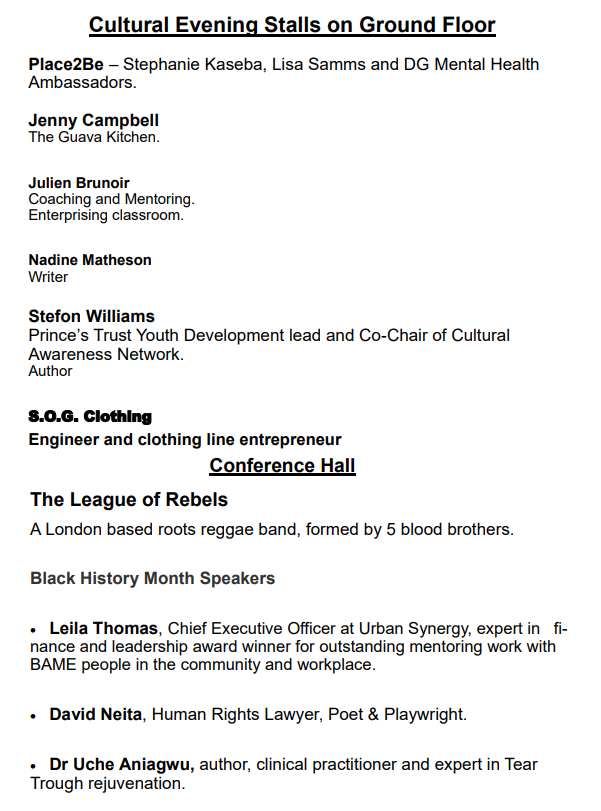 This segued into the interval which gave us the taste of Africa and Caribbean food, lots of choice and a chance to sample Year 9 cooks Caribbean veggie patties. The interval also had DG students sing and play music. The second half began with a talk from Dr Uche Aniagwu, an author and clinical practitioner and expert in Tear Trough rejuvenation. His speech made us challenge ourselves and strive for the best.
The culmination of the evening was the renaming of the Conference Hall to The Sybil Phoenix Conference Hall in honour of a local champion of young people. The plaque was presented to her son Woodrow who came along with his family.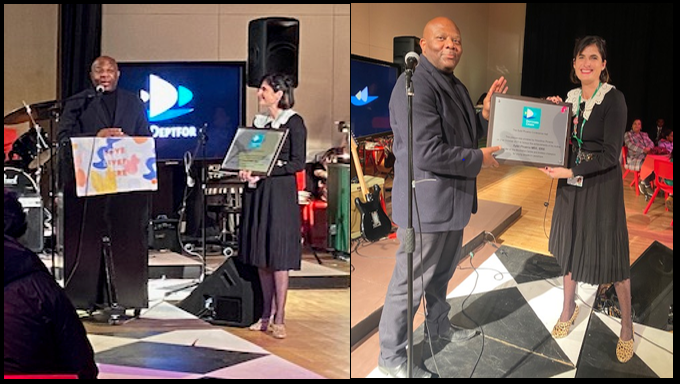 The night ended with a spectacular cultural catwalk show which showed black fashion representation from across the world.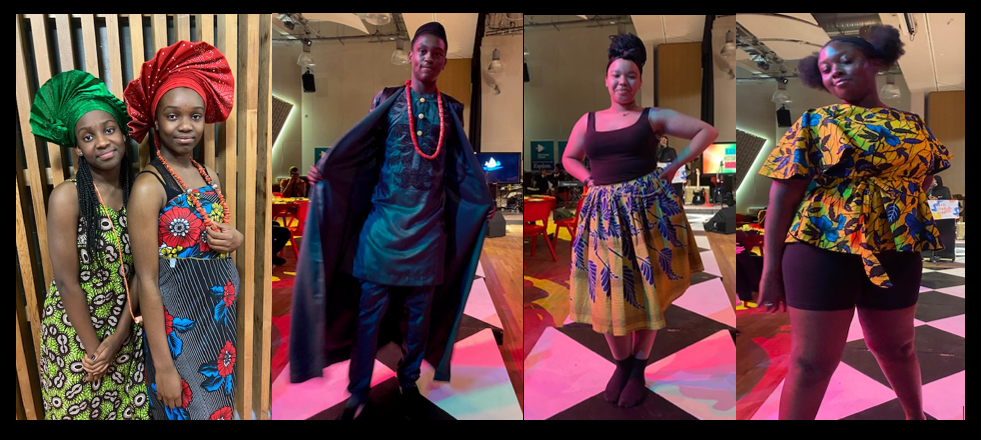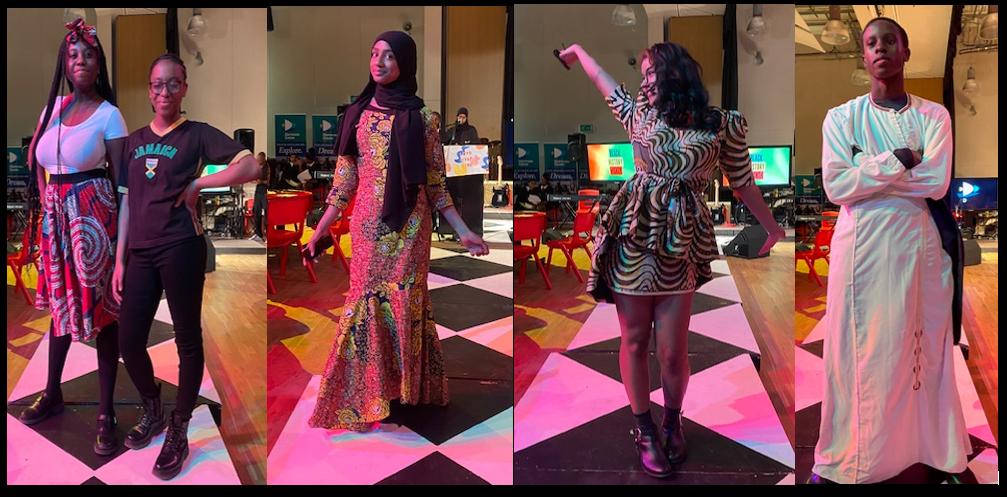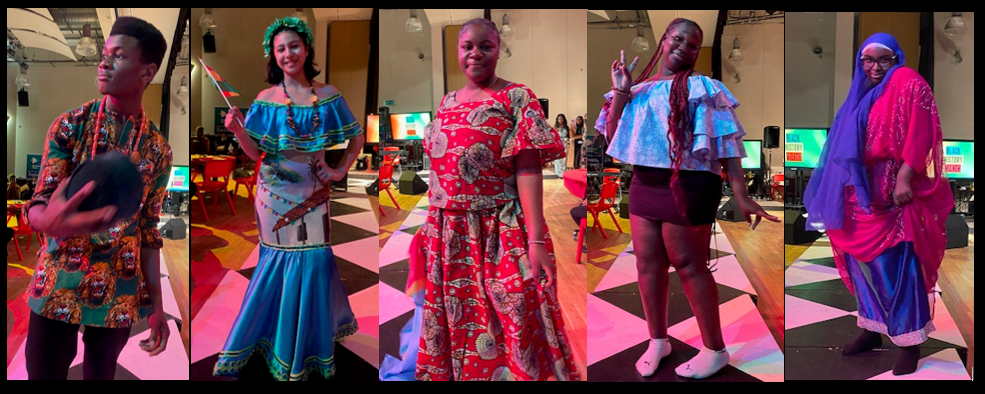 A great evening and thank you to all involved!