Informed Decisions- Post-16 Progression Evening 14th October 2021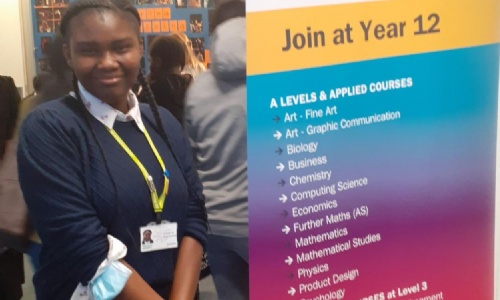 "Huge thanks for welcoming us to your lovely school. Your students are amazing!" Sixth Form Guest
Over 200 Year 11 students and their families, from Deptford Green and Addey and Stanhope, met with 22 sixth forms and colleges to learn more about the options available in the next phase of their education.
Academic or Vocational, A Levels, T levels, BTECs…. Decisions must be made and many great conversations were taking place all evening.
Our alumni gave us great insights and top tips to succeed, and it was great to catch up with Monique who is currently in Y13 at LDEUTC. Monique took part in career mentoring and work experience when at Deptford Green and is planning to study Architecture at university.
From learning about pathways and opportunities in the creative industries to engineering, computer science and humanities, the wide range of providers attending cater for different levels, interests and aspirations.
"I am loving this evening; I have talked to so many people, and it has been really helpful. I feel more confident about my decisions now." Y11 student.