DG Debate Mate Club Competition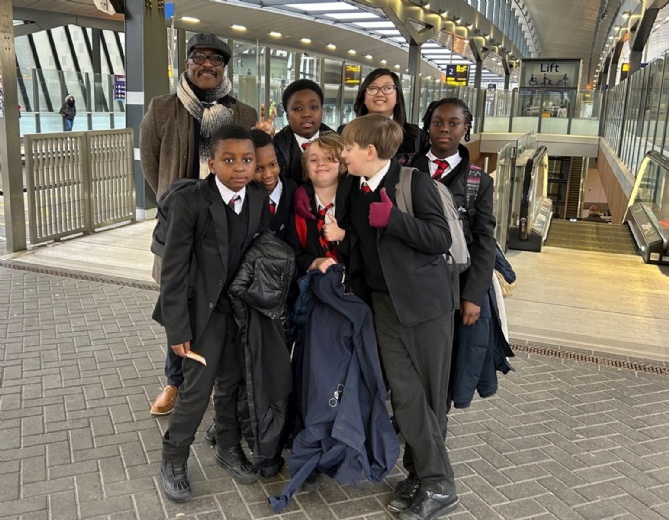 The competition was amazing! Our year 7 students took on a group of students from another school.
The year 7s involved were; Ashlee, Orson, Wesley, Anna, Hepzibah , Efeosa and Joshua. These year 7s have been attending our school's Debate Mate Club which runs every Tuesday. They have been attending since November 2022. Mastering their debating skills and socialising with others embedding our school's GREAT values and LORIC skills. On Tuesday the 23rd of January, these students visited St Georges Catholic School in Maida Vale, W1. They were invited to attend a novice league debating competition, which started at 15:45 and ended at 18:15. There were signed up to compete in 2 rounds of prestigious debating. No one knew what the topics were until the day of arrival and they had 10 minutes to prepare when the topic was announced on the day.
Our year 7s made good use of their time during the preparation. No time wasted or use of mobile phones (not allowed by the organisers). Orson showed good leadership setting the team in order of execution. Everyone was fully prepared within minutes. You didn't have time to finish a hot cup of tea – they were so ready. No notes were made for the first round. Despite being allowed. What confidence they had. What a team!
The topic was should the government make maths compulsory until 18 years of age.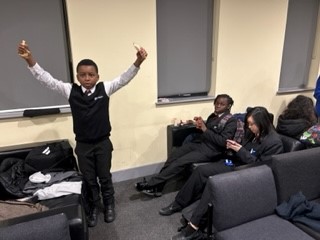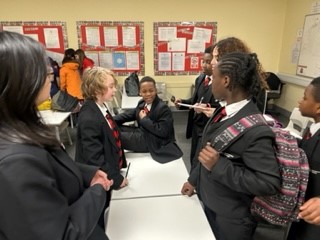 Deptford Green was given the proposition stance and the other school was given the opposition. What do you think would be the natural stance to argue from? Whatever our year 7s were not deterred or phased. Orson spoke first reciting Sunak's maths proposal. The opposition countered smoothly. Our second speaker, Joshua manoeuvring his hands in a professional manner, looking at the opposition right between their eyes. The opposition was not defeated and came back with interceptions. It looked like our year 7s had lost their heads – well almost. But Orson's plan seemed to come back into the mix. Our third speaker was Anna, projecting her voice demanding all eyes to listen. You could see the referee's eyes and head lit up while her neck reached up from her desk like a pet viewing the owner bringing dinner to the table. Efeosa, walked back and forth with words running out of his mouth eloquently. He was precise about his thoughts and reverted back to the initial message. Was this enough?
Yes, it was. Year 7s won the first round, and what a round indeed. Our year 7s were in shock. They thought they lost. Why? Because one opponent from the opposition counteracted several points on several occasions. However, our year 7s worked as a team.
They went on to the next round. Facing a mix of year 7 and 8s. The question was, should the Monarch be abolished? Deptford Green was the opposition, and their opponents were the proposition. Another difficult task for our year 7s. How did they do…..I let you discuss the results with them.