Deck The Halls! Christmas Showcase Event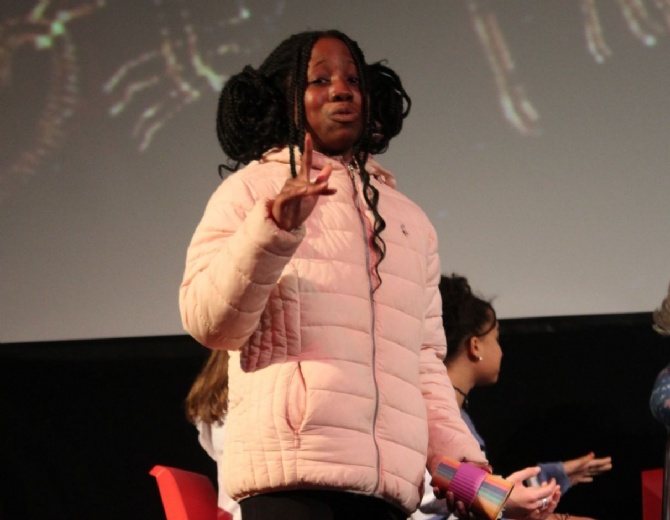 On Tuesday 13th December we presented our Christmas Arts Showcase, Deck The Halls!
What a fantastic festive day at Deptford Green! Following on from the Staff Pantomime, it was the students' turn to shine, and did they? A variety of acts lit up the Sybil Phoenix Hall with singers from all year groups; Drama performances and much much more. Although it was a small portion of the talent we have at DG it left a big impact on the visitors. Many commented on how fantastic the atmosphere and talent were.
Rather than just a Christmas show, it was truly a Christmas 'Show Off' with not just the Dramatic and Musical talent taking centre stage. Punters enjoyed tandoori wraps freshly made by the Y9 Food Club; Christmas decorations by DT and a diverse display of Art while enjoying the former, not to mention a thrilling raffle draw with top prizes including a £100 Amazon Voucher and many other tantalising prizes. We thank everyone who participated in the event in any capacity and look forward to hosting many more events here at DG in the future (music recital at Easter the musical in July- 'Our House').
Thanks so much to the following companies for their generosity for our raffle.
1x Cinema membership from the lovely people at Catford Mews Cinema -entitles the holder to 5 free tickets and 20% on everything such as drinks and more tickets for a year
1x £100 Amazon voucher from the very supportive CSR team at Lendlease
2x vouchers for a haircut from the lovely people at DKUK in Peckham
Free Pizza voucher, from the brilliant Dinner For One Hundred in Telegraph Hill