WHAT'S BEEN HAPPENING AT SCHOOL?

YEAR 11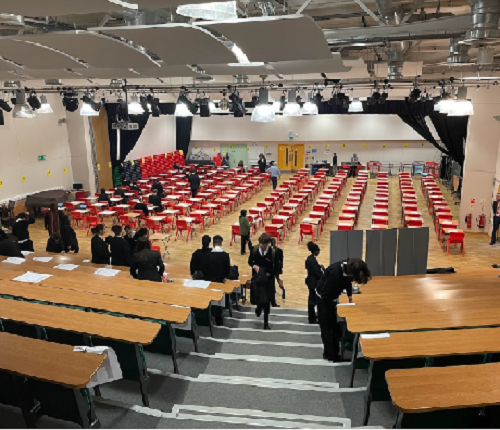 Friday 26th May was the last day of regularly timetabled school for our wonderful Y11's. For the last couple of weeks they have been sitting exams and after the holiday the majority are on study leave and will only attend for the remaining exams and subject interventions. (Students have been informed if they are not on study leave).
We are so proud of them for the commitment they have put in so far and look forward to seeing them back - hopefully refreshed as Ms Thurston has said - and raring to get their remaining exams completed after the break. Well done to all of you - you are amazing! We will see you after the holiday for this last phase of your DG journey.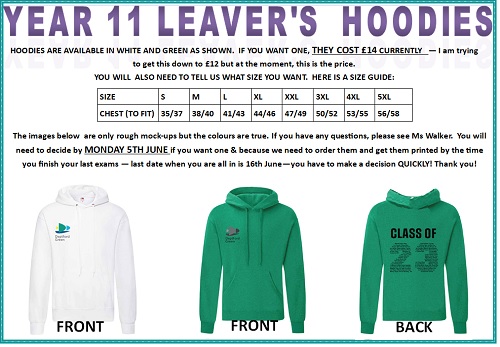 To Y11 Parents/carers:
We have been working with an ex-parent who is kindly and generously donating her time and expertise to producing Deptford Green 2023 Leavers Hoodies AT COST for us, and through her generosity, we have managed to secure hoodies for the low price of £14.
If you would like to purchase a hoodie for your child, please visit ParentPay where you are able to purchase one. It is important to enter the colour and size that your child needs. We hope that the hoodies will arrive at school in time for their leaver's assembly. The deadline for the payment is the 5th of JUNE. We will not be able to extend the deadline beyond this as we have to place the order to receive them in time. Thank you!

SCIENCE
In Ms Manning's Y7 class today they were investigating 'Hooke's Law'. How long will a Jelly snake obey Hooke's law before being eaten? There are more exciting photos to come with this practical!
The first student pictured is Xavier with a DG science Pen which he won for his amazing homework!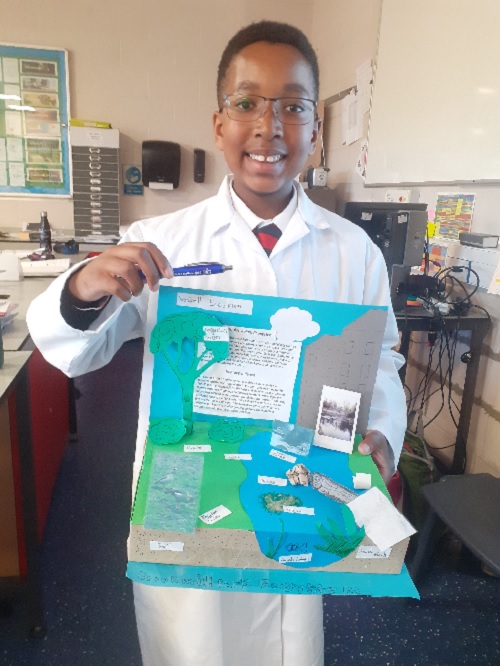 These 2 students are Oli and Alex busy investigating...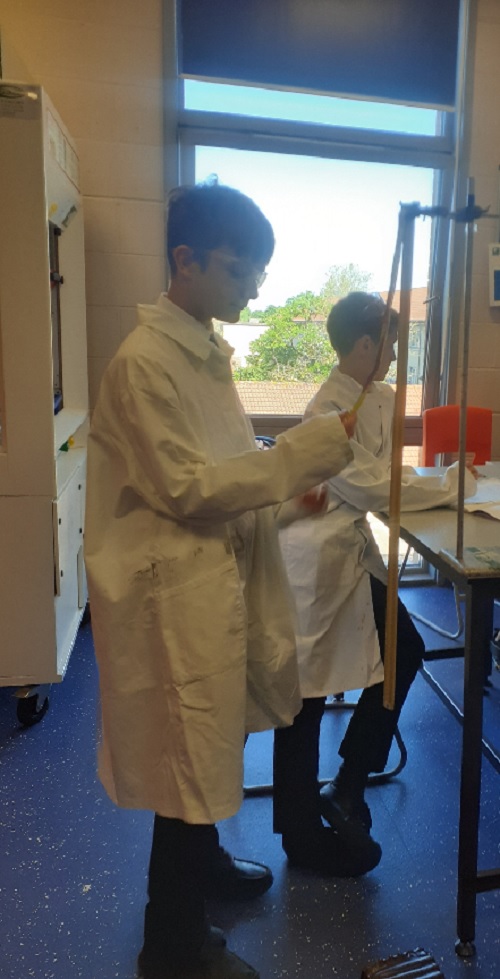 Finally we have Milly and Harley with Natasha, Oli and Alex who can be seen in the background. There is lots more to come so watch this space in the next edition.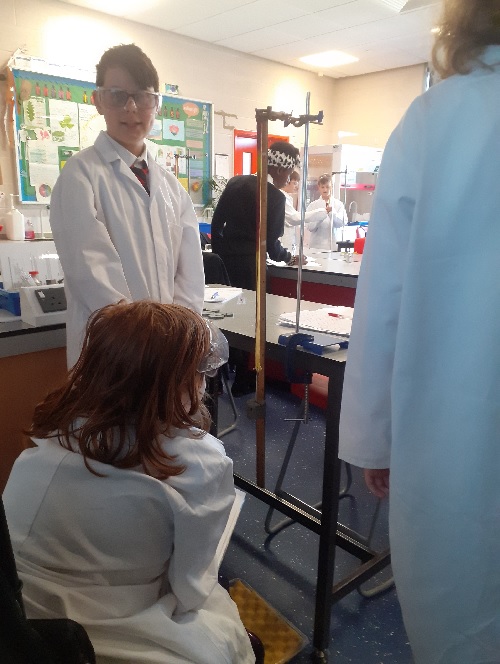 Thank you Ms Manning for your fun and engaging lessons...

JACK PETCHEY SPEAK OUT CHALLENGE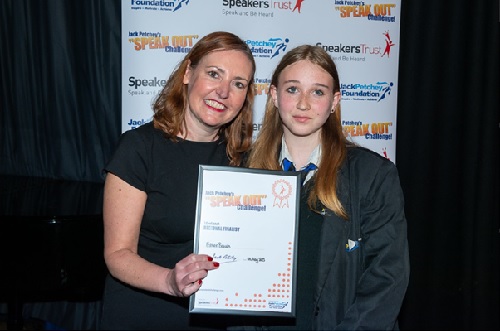 LEWISHAM REGIONAL FINAL 2023. (Esther in Y10 pictured above right).
A massive shout out to our performers at the Jack Petchey Speak Out Challenge.
This event took place on Thursday 4th of May at Prendergast School.
Our students, Julia and Esther, performed their well-prepared speeches in front of hundreds of people! The atmosphere was professional and exciting. 18 speakers from several schools in Lewisham competed in this regional final. The judges were from all walks of life with expertise in various professional industries. The speakers were judged on content, structure and delivery.
Julia's speech titled 'Listening' was executed with a driven passion. Julia's introduction to her speech was the Oxford dictionary's definition of listening and the audience truly listened! She continued to wow the audience with a flow of technical words linked to the theme. What a performance! Well done Julia.
Esther's speech was emotive. The title was 'Alcoholism'. She captured the mind's of her audience by expressing the pros and cons of drinking alcohol. The wordplay was excellent and Esther maximised her speech with great dramatic presence. She delivered a flawless performance considering she was only told the day before the event that she was competing! What a true professional! Fantastic effort Esther. Both of these girls represented our school brilliantly and we are so proud of them.
A Regional Final is a public celebration of young people and this event was no exception. What a treat to hear so many fantastic speeches! Congratulations to all the speakers for sharing their ideas and stories. Here are the results:
Regional Champion: Thara from Haberdashers Askes Hatcham College
Runner-Up: Kirabo from Trinity Church of England School, Lewisham
Third place: Hawa from St. Matthew's Academy.
Thank you Mr Ramsay for this report and for running the challenge so enthusiastically with our students.

CAREERS
Y10 WORK EXPERIENCE...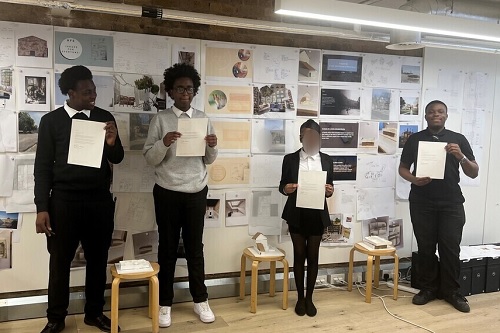 We are immensely proud of our Year 10 students who just completed their work experience. We hope you enjoyed it and have a good half-term rest after all your hard work in a new environment! Dont forget to upload your experiences on to XELLO
Look out for our special Work Experience article in our next edition.

Just a reminder to log into and use our Careers Platform...

HAVE YOU BEEN GREAT SO FAR THIS TERM? #BEGREAT AND RECORD ONE OF YOUR EXPERIENCES ON XELLO
All students at Deptford Green have an account and have access to Xello.
We challenge all students to upload at least one experience to their Xello portfolio!
Year 10's... you have just been on Work Experience. Have you uploaded the details of this to your Xello account?
Have you attended an after-school club or other enrichment activity this 1/2 term?
Maybe you made a delicious risotto in cooking club? Did you design an amazingly elegant and sophisticated dress out of recycled newspapers in Junk Kouture club?
Did you learn to ski on the skiing trip earlier this year? You have attended a Drama club out of school or auditioned or got a part in our school's production? You completed or joined the Envision Programme? Have you uploaded it to the platform?
Are you proud of your team's victory after a tough football game against another school?
You visited a gallery or another workplace? You applied to a university summer school? Maybe you built the most amazing model during science week?
Whatever you've accomplished this year so far, PLEASE GET INVOLVED! We want to see the incredible variety of interests and achievements of all our Deptford Green students; we can't wait to celebrate this with you! Don't be shy, BE GREAT AND BE PROUD!
What we are looking for:
Evidence of what you have done uploaded to your portfolio. It could be a picture, a photo, a certificate, a video, a link to a website or a paragraph you have written about your experience. Your choice, but we need to see clearly what you have got involved in.
A reflection (a sentence) on one thing you enjoyed, one thing you learned and one thing you found challenging. Link it to LORIC Skills and our GREAT values.
Watch this video on how to showcase your work with Xello portfolios - click HERE
Click HERE to learn how to access Xello from home (previous newsletter)

SPORT @ DG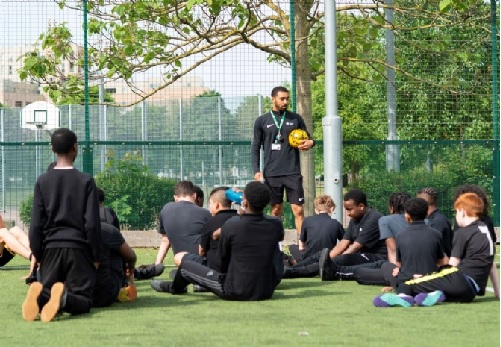 Our students continue to demonstrate their sporting prowess at various fixtures across the borough. Well done to all for your passion and enthusiasm. We are proud of you! To read all about DG sporting achievements, click HERE

WHAT'S COMING UP?
EXCITING NEW ENRICHMENT OPPORTUNITIES! GET INVOLVED...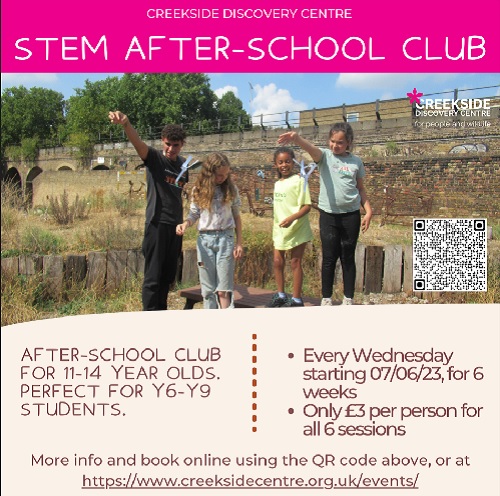 Our friends at Creekside invite you to attend the STEM Club there, starting after half term. The sessions will be different from the Creekside STEM club we attended previously so students can join again if interested. Any questions? Email: cnembhard@deptfordgreen.co.uk

.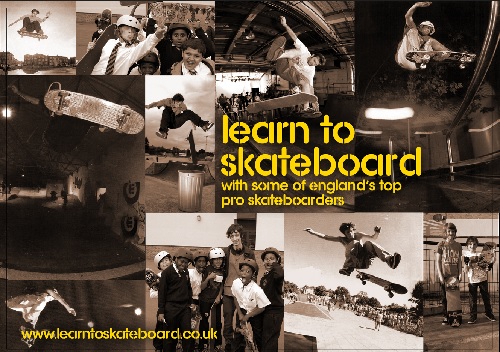 New 'Learn to Skateboard' Club for Year 7 and Year 8 students on Wednesdays 15:00-16:10, from Wednesday 7th June in the school playground.
Students will work with instructors who are also professional skateboarders and have competed around the world.
Places are limited and WE ARE ALREADY FULL but if you are interested, come and take a look and then complete the form on this link - click HERE to go on the waiting list.
We will ONLY be able to enrol students whose parents have given consent for them to participate and will prioritise students who have not yet attended other clubs. If students are interested, we will run the club again next academic year so sign up and be on the waiting list!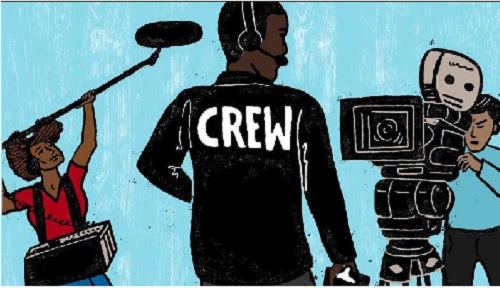 We are working with EMPOWERMENT LONDON, an organisation which aims to improve opportunities and access into the Creative Industries for young people from marginalised groups, particularly black and ethnic minority creatives and are delighted to invite applications to the new 'Empowerment Network Film Club'
FOR STUDENTS IN Y8, 9 & 10 ON FRIDAYS 3 - 5PM FROM FRIDAY 9TH JUNE (see all dates below)
The aim of the project is to introduce students to the skills of filmmaking, showcase their work in the final week and give them the opportunity to work and network with professionals in the Film and TV industries who have worked on feature films and Netflix shows.
THE CLUB WILL BE BASED AT ST MATTHEW ACADEMY and students will be accompanied there and back if needed.
PLACES ARE LIMITED so we will only be able to enrol students whose parents have given consent for them to participate and who are able to attend all sessions.
If we have more interest than we have capacity for, we will prioritise students who have not yet attended other clubs. Complete the form on this link: click HERE
THE OUTLINE OF THE PROJECT AND WORKSHOPS IS AS FOLLOWS:
WEEK 1 - Friday 9th June - Filmmaking Class One: Camera Workshop lead by Mahalia John (Clapper Loader/ DOP)
WEEK 2 - Filmmaking Class Two: Sound & Lighting - Friday 16th June
WEEK 3 - Filmmaking Class Three: Leading a Team - Assistant Directing - Friday 23rd June - Lead by Steven Olugbenga (First Assistant Director) - Supported by Jodie Simone-Howe (Costume Network)
[Shoot week - 30th June]
WEEK 5 - Post-Production & Editing - Friday 7th July lead by Zuelika Brown (Series Editor), Che Charles (Edit Producer) and Folasade Oyeleye (Film & TV Editor)
[Edit week - 14th July]
WEEK 6 - Showcase & Next Steps – Monday 17th July featuring Rhia Aden (BFI Academy), Akua Gyamfi (Founder of The British Blacklist), Simone Pennant MBE (Founder of The TV Collective), Deborah Williams (Writer, Producer and Digital Composer)
If you have any queries, do not hesitate to get in touch on 0208 469 4896 or email: cnembhard@deptfordgreen.co.uk

READING
VALUABLE LIFE LESSONS: "You can't understand someone until you've walked a mile in their shoes".
EMPATHY DAY 8TH JUNE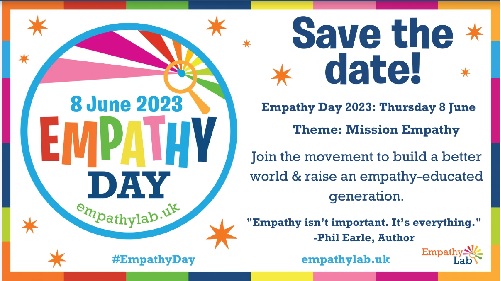 From Empathy Lab: Empathy Day is a focal point for celebrating and growing empathy's power to create a better world. It aims to develop an understanding of books' role in raising an empathy-educated generation.
Empathy Day inspires children and young people to learn more about empathy, have transformational experiences through stories and put empathy into action!
WHAT IS EMPATHY?
Empathy is our ability to understand and experience someone else's feelings. It builds stronger, kinder communities. It's a crucial life skill that young people need to learn, thrive and make a positive difference. We're not born with a fixed quantity of empathy – it's a skill we can all learn. Excitingly, research shows that books are a powerful tool to develop it. When young people identify with book characters, they learn to see things from others' points of view. As they read, they are building their empathy skills.
THE 2023 READ FOR EMPATHY COLLECTION
Below you'll find twenty-five fantastic empathy-boosting book titles – chosen by an expert panel – to help young people gain insights into other people's feelings, perspectives and ways of life.
IF EVER WE NEEDED A WORLD WITH MORE EMPATHY, IT'S NOW.
Please use the books to inspire everyone to put empathy into action...
We are proud to say we have all the books listed in our library. Come check them out...
GRAPHIC & VERSE NOVELS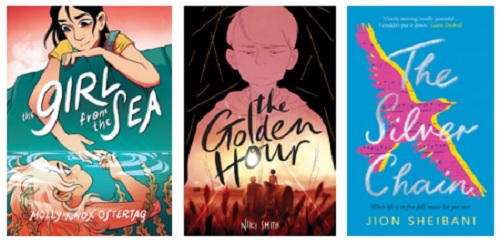 POETRY & SHORT STORIES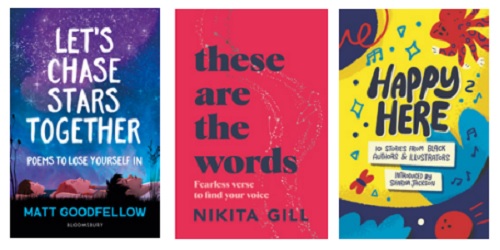 NON-FICTION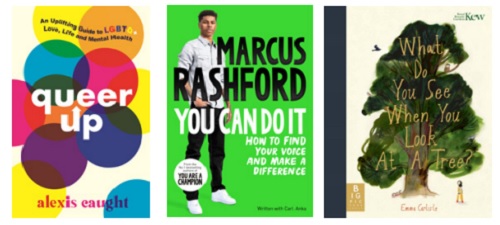 NOVELS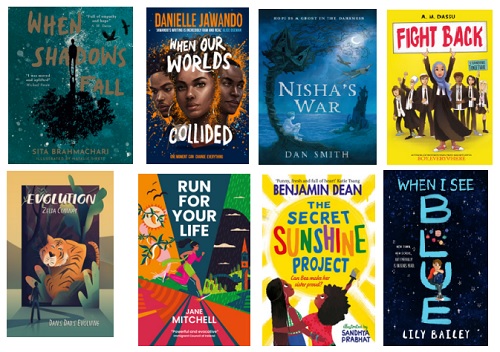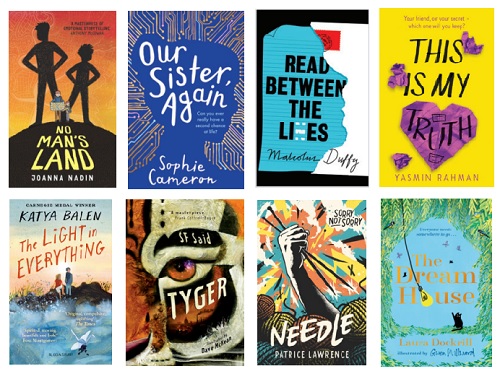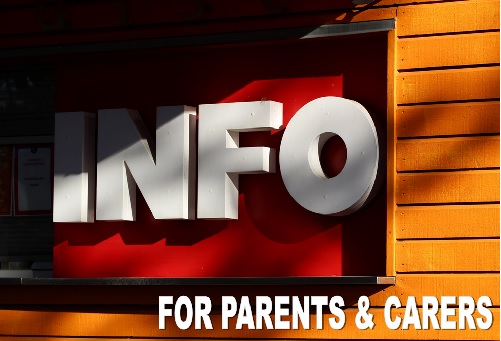 THINGS TO DO AT HALF TERM: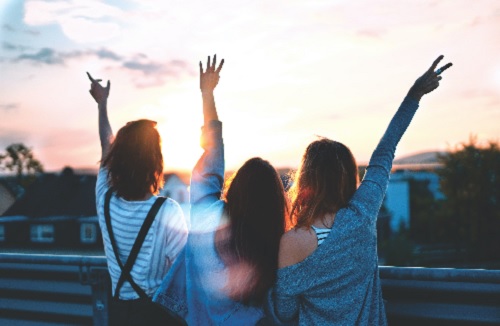 These are only some suggestions - we have not investigated them fully but we hope you might find something here that is useful! Enjoy...

SUPPORT SERVICES FOR STUDENTS DURING THE SCHOOL CLOSURE
If you or someone you know needs any support during the school holidays, there are a range of different services available to you. Please contact one of the following support services who can give you more advice and guidance during school closure.
If you or somebody else is in danger, or it feels like a situation might get dangerous and you need support right away, contact the police on 999.

Childline is a free, private and confidential service that you can access both online and on the phone. They can provide help and support for people up to their 19th birthday. Call free on 0800 1111 or Log in for a 1-2-1 counsellor chat: click HERE
You can access confidential emotional support at any time from Samaritans either by calling 116 123 or email: jo@samaritans.org
Chat to a friendly counsellor, read articles written by young people, get free, safe, and anonymous online counselling support. Click HERE
24/7 text service, free on all major mobile networks, for anyone in crisis anytime, anywhere. It's a place to go if you're struggling to cope and you need immediate help. Text 85258.
CEOP help children stay safe online. If anybody acts inappropriately towards you or another child or young person online (such as sexual chat or being asked to do something that makes you feel uncomfortable), you can report it here.

Mental health services are free on the NHS. To get urgent medical help, use the NHS 111 online service, or call 111 if you're unable to get help online. Only available in mainland UK. For life-threatening emergencies, call 999 for an ambulance.

If you're worried about a child or young person, you can contact the NSPCC Helpline for support and advice for free - call on 0808 800 5000.

YoungMinds - click HERE has information for both young people and their parents. They also have a parents help line which is open Monday to Friday 9.30am-4pm on 0808 802 5544 (free for mobiles and landlines) as well as an email address: parents@youngminds.org.uk They aim to respond to queries within 3 working days.
SUPPORT SERVICES DURING TERM TIME & STRATEGIES FOR COPING WITH DIFFICULT FEELINGS
Remember Deptford Green Safeguarding team are always available to support you DURING TERM TIME.
If you don't want to do this in person you can email us at estanghon@deptfordgreen.co.uk, acoffe@deptfordgreen.co.uk or lascott@deptfordgreen.co.uk if you are worried about yourself or a friend. You can also speak to your Head of Year, Pastoral Leader, Pastoral Assistant or your Form Tutor. All staff are trained to support you and help you.
STRATEGIES TO MANAGE DIFFICULT FEELINGS
Young people can also use a series of strategies to help manage how they are feeling:

TALK TO A FRIEND/PARENTS/SOMEONE YOU TRUST about how you feel. Expressing how you feel can take a weight off your mind
WRITING DOWN HOW YOU ARE FEELING (even if you rip it up afterwards). Drawing or painting how you feel can be equally beneficial
USE DISTRACTION TECHNIQUES - Watch something funny, read something you enjoy, listen to music, use a colouring book, complete puzzles.
CREATE A SPECIAL BOX – put in here photos or items which are important to you or that have good memories attached. You can also include things that comfort you like your favourite food or add in a stress ball. During times you are feeling a little better, you could write yourself a letter about all the strengths you have in your life at the moment to remind you during times when things are more difficult
TRY NOT TO ISOLATE YOURSELF, even if you feel like being on your own in your room; push yourself to be around other people.
LOOK AFTER YOURSELF: Sleep well and keep up a steady diet. These things can help provide a little boost to your mood. The internet can be a helpful resource for sleep hygiene and balanced diet advice
KEEP SOME STRUCTURE AND ROUTINE, challenge yourself to do activities around the house
REMEMBER IN AN EMERGENCY: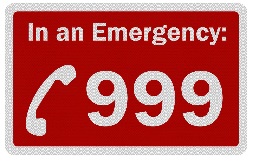 If you or your family have concerns that you are no longer able to keep yourself safe, go to your local A&E or call an ambulance in an emergency.
Thanks Ms Stanghon

ATTENDANCE MATTERS: MS COFFEY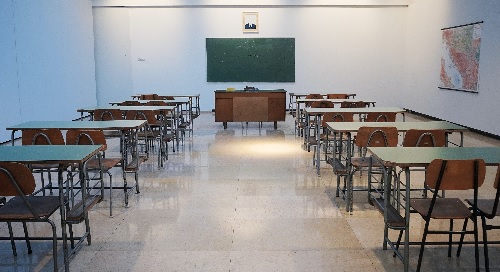 SCHOOL KEEPS YOU SAFE, IT EDUCATES YOU & PREPARES YOU FOR YOUR FUTURE... DON'T MISS OUT!
ABOVE 97% : LESS THAN 6 DAYS ABSENCE A YEAR Excellent attendance! These young people will almost certainly get the best grades they can, leading to better prospects for the future. Pupils will also get into a habit of attending school which will help in the future.
95%: 10 DAYS ABSENCE A YEAR These pupils are likely to achieve good grades and form a habit of attending school regularly. For example, pupils who take a 2 week holiday every year instead of where a one week holiday has been allotted, can only achieve 95% attendance.
90%: 19 DAYS ABSENCE A YEAR Young people in this group are missing a month of school per year; it will be difficult for them to achieve their best. Young People in this group are classed as "Persistent Absentees".
85%: 29 DAYS ABSENCE A YEAR Parents of young people in this group could also face the possibility of legal action being taken by the Local Authority.

A SUGGESTED THERAPY TIP FROM ALISON FROM PLACE2BE... IT JUST MIGHT HELP!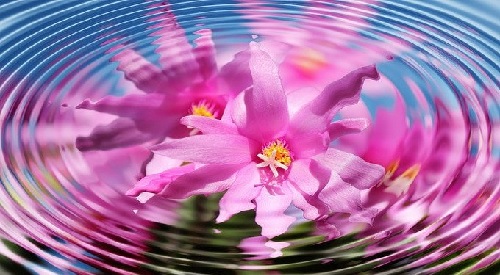 HOW TO SPEAK TO PLANTS
The Place2Be office is one of the rooms in school without windows, yet there are two spider plants growing in there.
One of our Place2Be counsellors was surprised at how healthy and green they look even without natural light. She said that it must be because I speak to them well and that the sounds in the Place2Be office must enable their healthy growth. She mentioned that there is scientific research to back this up: talking to plants gently and with love, produces healthier plants. I checked it, and there is indeed such research. You may be aware of this already.
It got me thinking about the patterns that sounds and vibrations make. How they impact the growth of everything in nature, in our world and in our universe. I explored how the geometry of sounds and vibrations can affect the shape of flowers and plants, and then linked it back to Place2Be's Children's Mental Health Theme, 'Let's Connect'. We are all connected, and we are connected to everything around us in nature.
How would it be to think about the sounds we send out and how those sounds impact those around us?
IF WE TALK TO EACH OTHER AS WE MIGHT TALK GENTLY AND LOVINGLY TO A PLANT, HOW MIGHT WE GROW?
Have a wonderful, healthy and stress-free half-term!
Alison

SUPPORT FOR FAMILIES IN PLACE2BE SCHOOLS
If your child attends a school supported by Place2Be, you can access free resources and services as part of our mental health support for the whole school.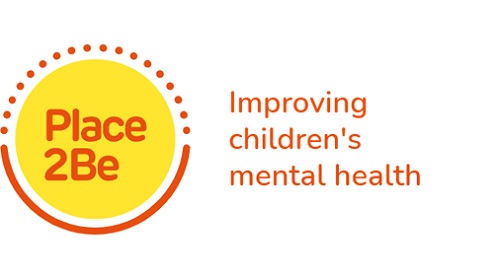 Place2Be is an AMAZING service that we are lucky to have in our school.
Check out all these resources that you can access. Click HERE


MAKE THE FIRST MOVE FOR YOUR MENTAL HEALTH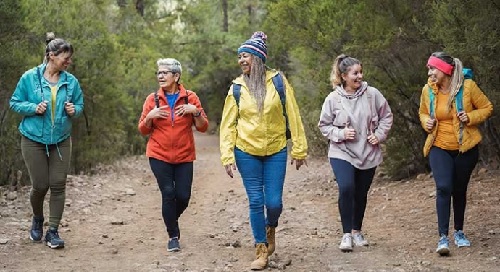 Check out this wonderful website from the NHS with top tips for being active for your mental health and a sign-up for anxiety easing emails... click HERE for a wealth of help!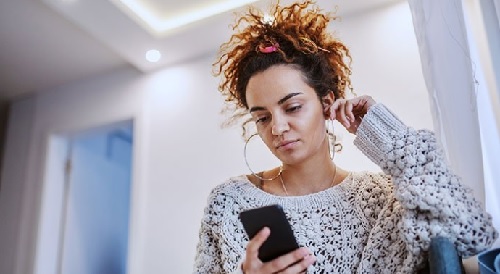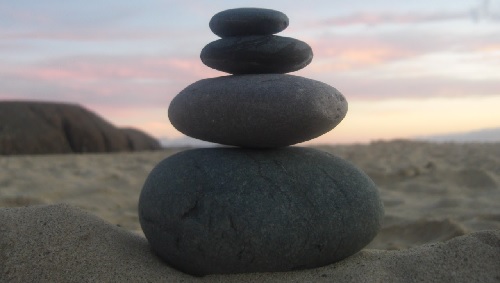 THE FREE MINDFULNESS PROJECT
The focus of this site is mindfulness as practiced in mindfulness-based stress reduction (MBSR), mindfulness-based cognitive therapy (MBCT) and other closely related approaches. Click HERE to find out more...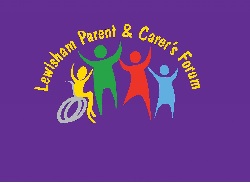 Dear Parents and Carers...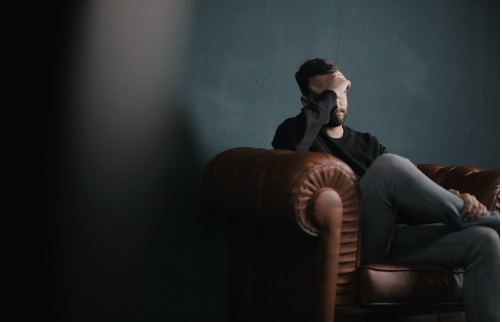 Feeling like this? Click HERE for details of in person and online workshops on DEPRESSION, ANXIETY AND BOUNDARIES for parents of children with additional needs.
Also we have been funded by Awards for All (The National Lottery) and Lewisham Local Authority to bring you our Winter Warm Hub to provide parents and carers of children with additional needs and disabilities a warm place to come once a week. We are limited to 25 people. Please click HERE to find out more....
Finally please click HERE for the Kaleidoscope drop-in schedule from June 2023 – March 2024.

Best wishes
LPCF

HAVE A WONDERFUL HALF-TERM EVERYBODY!