REMEMBERING JOE COUZINS by Mr Paish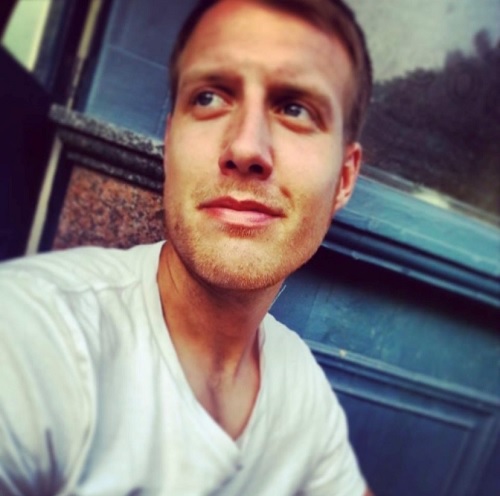 On Thursday 27th April we hosted a memorial evening for Joe Couzins. We were honoured to welcome several members of Joe's family to the evening and many of his friends too. There were lots of staff and students there, both past and present. We raised about £400 for Cancer Research on the night.
Joe started working at Deptford Green in 2009 and this was originally as a Teaching Assistant. Our school was a very different place then in the old school buildings and with many different generations of students and staff passing through the doors over the years. Joe was employed by our SENCo at that time Ann Manning, who shared her reflections on working with Joe. These early days in Joe's career saw him supporting some of our most vulnerable students and making a huge difference to their school experience.
Joe eventually became a PE teacher and was at the heart and soul of the PE department. Joe was always thoroughly motivated by anything to do with sport and was a lifelong Tottenham Hotspur fan.
No one loved Deptford Green more than Joe who was over the moon to be a part of the school's transition into the brand-new building. The only complaint he had was about the size of our Sports Arena but he still found a way to have close to a 100 students on it at one time when he started the famous Deptford Dragons. Joe started this club from the ground up and would spend his Sundays managing matches, tying laces, and inspiring his students. He would regularly find himself paying for things for the Dragons out of his own pocket but that did not matter to him as every child that was involved with the club will look back with the fondest of memories.
Butlins trips must be spoken about! This was his baby that he lived and breathed. The hours spent completing risk assessments, booking minibuses and planning routes have led to a legacy that will last forever. So many memories that will never be forgotten have been made at Bognor and Skegness thanks to Mr Couzins.
A few years ago now, the school made the decision to reintroduce the role of Heads of Year, something we hadn't had for a few years at that time. I remember Joe applying for this post and thinking how great he would be for it. Joe asked if we could meet so that he could talk through the role, I had been a Head of Year in the distant past, and he remembered this. We sat and talked through what it might involve and the kinds of attributes a Head of Year would have. Not only was Joe an excellent teacher who inspired his students and gave them a love of PE and sports, but he also had the compassion, dedication and that particular kind of strength required to be a Head of Year; he was the perfect fit.
One of Joe's students was so inspired by him that after university he went on to train to be a PE teacher himself. He then got a job in the school, eventually becoming a Head of Year and is now a senior leader with us... Fraser Walker. We truly do walk on the shoulders of giants.
We want to make sure that we remember Joe and his inspiring ways over the coming years and so we are going to rename our MUGA The Joe Couzins Arena. The signage for this is being made and we will reveal it at Sports Day later in the year. Also, at Sports Day we will have a special award: The Joe Couzins Best Supporters Award, which will go to the House with the best and loudest supporters; this was something that Joe always encouraged at our Sports Days. And at our Year 11 Celebration of Achievement Evening each year, for our recently graduated students we will have The Joe Couzins Award for Great Achievement in PE.
Joe has meant so much to his colleagues in school. He had that special gift of always making everyone feel included and part of the fold. He joined in with everything that happened in school, coming along to all the school shows, fundraising events and competitions that we had.
After Joe died a significant number of his old year group and his former students contacted us and asked if they could come to school and pay their respects. So on the Friday we held a vigil for Joe next to the Sports Arena. The amount of people who turned up was quite overwhelming and spoke volumes for the strength of feeling for Joe. We tied blue ribbons (for Spurs) onto the fence, we lit candles, people brought gifts and flowers in their hundreds. But most importantly we were together. We sat, huddled against the cold and we talked about Joe. We shared our memories of him and how much we all loved the open and honest nature of this wonderful man.
At the vigil, one of Joe's students Ejiro, wrote this lovely message:
'I think it is undeniable that your life was short-lived. Your positive impact on people was of such a great magnitude that the world clearly couldn't take it. You mean everything to your friends, family, colleagues and students because that is the type of person you were and always will be. I look forward to playing football with you again. Rest in peace'.
You have taught us all so much about how we should be living our lives and the value in every drop. Thank you Joe.
In closing, Masaiya Thomas, who was also at the vigil and who had been in Joe's year group, wrote a beautiful poem and I will share this with you here:
Thread
A boy sits in a corner
Shocked
A thread pulled from his heart
A thread that was sewn in
His journey
A golden thread
A stand out
The same thread in thousands of hearts
Pumping it's rich gold into them
The strongest and most
Beautiful thread
NEVER failing to shine
He owes this thread a lot
I hope he knows
Thank you Masaiya...

Mr Hewson also wrote this poem for Joe in memory of some amazing and happy times shared with Joe...
Let's, Play, Darts!
If ever there was contest
Couzins was all in,
We'd have a laugh and mess around,
But he was there to win.
We'd groan about the day at work
Embittered by it all,
But we were in a happy place,
Throwing arras at the wall.
In many ways and many times,
Joe stepped up to the oche,
Some might call him confident,
And maybe slightly cocky.
When he had his 'Chizzy's' in hand,
He was hard to beat,
Singles, trebles, doubles
Repeat, repeat, repeat.
Part of the Barney army,
Raymond was a hero,
He was full of admiration
For the way he got down to zero.
We established a darts club together,
To which the students would flock,
A chance to play against Joe,
At countdown or round the clock.
So, thank you for the games my friend,
For being so assured,
I hope you're up there, armed with flights and stems,
And the big fella has a board.

A flight too short
By Ms Player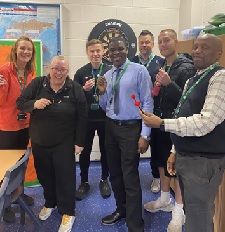 To lose you is like
A dart to the heart.
Pierced.
Punctured.
You left your mark.
You were a bullseye,
a treble twenty
a cherished score
on a flight too short

Student, Teacher, Colleague, Friend
(By B)
It's not:
The end goal
The destination
How much
How many
The hours
The minutes
Or days.
It's:
The journey
The life lived
The lives touched
The love given
The love received
The love.
A GREAT Teacher
By Y11
A great teacher
Is a brilliant light
Illuminating the prism of life
Revealing rainbows
Shining bright.
A great teacher
Is a memory deep
Brimming with knowledge
Bursting with passion
A message to keep.
Joe Couzins - we miss you!