WHAT'S BEEN HAPPENING AT SCHOOL?
SKI TRIP BRINGS LOTS OF SUNSHINE!
Check out our skiers on the pistes! We look forward to lots more photos and stories from the trip in our next edition. Watch this space...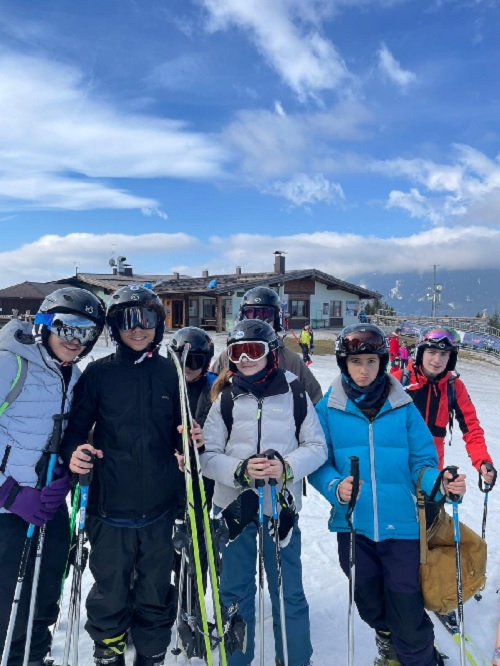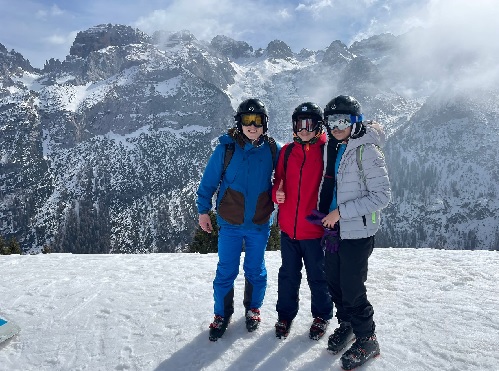 MUSIC: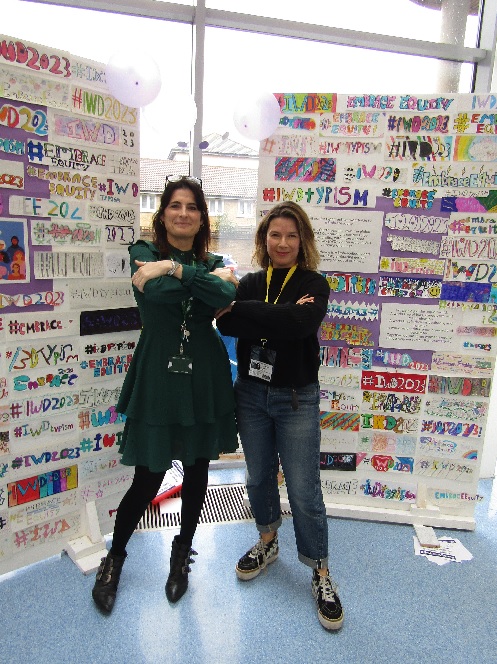 Y10 VISIT FROM EMMY-NOMINATED RUTH BARRETT
On Thursday 9th of March, our Y10 music class were lucky enough to get a visit from Emmy-nominated composer Ruth Barrett. Ruth's most recent work includes writing for the new Amazon series 'The Terminal List' as well as NBC's 'Law & Order'. She has also written work for Netflix and terrestrial television.
Ruth explained her backstory and how she broke into the industry, presented her work to the class and engaged students in a discussion about how music can be used to enhance or create emotion in the listener. Students were highly engaged throughout and loved Ruth's industry anecdotes about the process of writing for the world's biggest streaming platforms. Thank you Ruth for coming and providing such a rich experience for our students.
Thank you Mr Hill.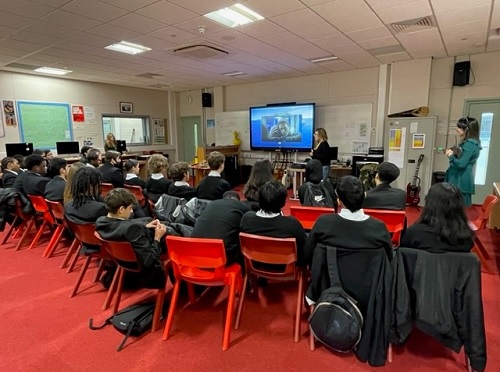 JAZZ ON TOUR: THE FLETCHER HENDERSON PROJECT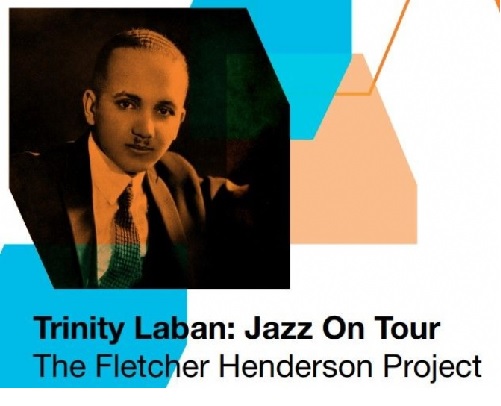 The Fletcher Henderson Project is a 13-piece band specialising in the 'Big Band' Jazz of the 1930s and early 40s – a period known as the 'Swing' era. Some of our students were lucky enough to get to hear them. Check out more information by clicking HERE

STEM Aviation Trip to London City Airport for Y9 Students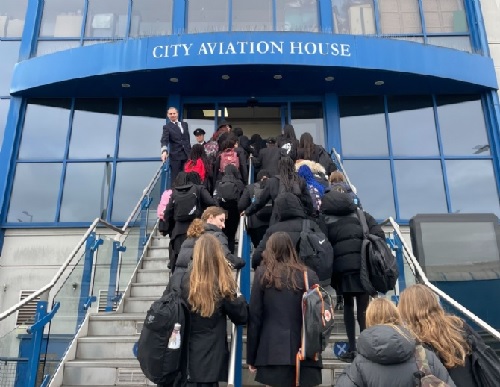 A group of Y9 female students were invited by the charity Inspire to a Careers' Day focusing on STEM & Aviation at London City Airport. Click HERE for more information and photographs

DESIGN & TECHNOLOGY:
Y7 DT SNAPPER PROJECT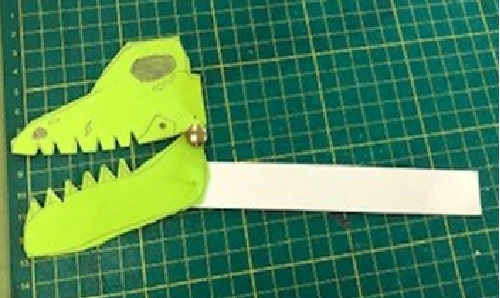 Mr Curran's Y7 DT class have been working really hard on the 'Snapper Project'. This involves using mechanisms to create movement. The design brief was 'to design and make a mechanical toy with the theme of animals'. They have learnt a variety of new skills from design presentation to using machines and hand tools. Many of the students have taken their inspiration from popular animated TV shows.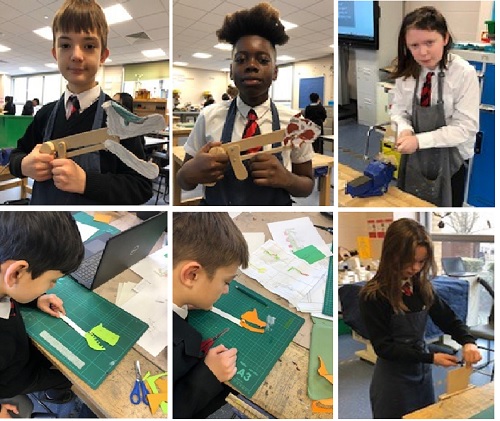 Y8 DT Windchimes
Y8 students have been designing and making Windchimes. They started the project with a design brief and went on to establish a target market and created a user profile. They also learnt about Feng Shui and the origins of Windchimes. They have used a variety of materials including recycled oak, aluminium and acrylic. The students have also developed skills in computer aided design (CAD) and using the laser cutter to make the acrylic part of the design. They have produced some excellent models...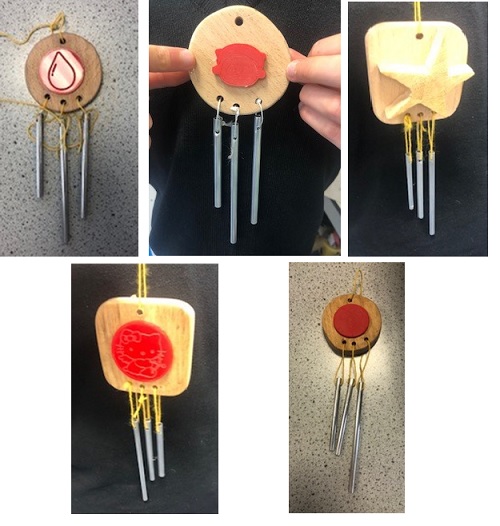 Y9 DT Light project
Y9 students are finishing off their Light Project designs. They have used a variety of materials including, acrylic, softwood, 3D printed components and recycled objects for the shade. The design uses an LED module for the light source and a USB for power; simple electronic skills are used. The Lights Fantastic!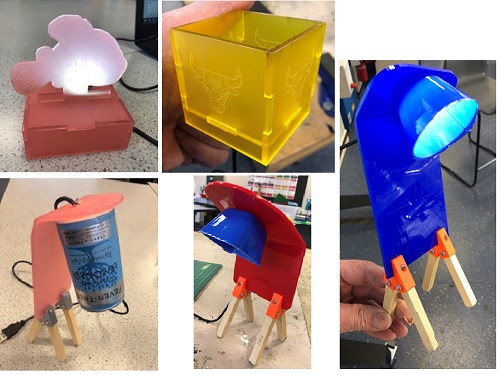 Y10 'Close The Box' Project
Y10 are working on a game called Close The Box. It is a wood-based product which uses traditional woodworking joints such as Finger Joints and Housing Joints. The project builds the maker's skill in measuring, marking out and cutting. Mr Curran was able to get solid hardwood for free from a Joinery workshop in Croydon.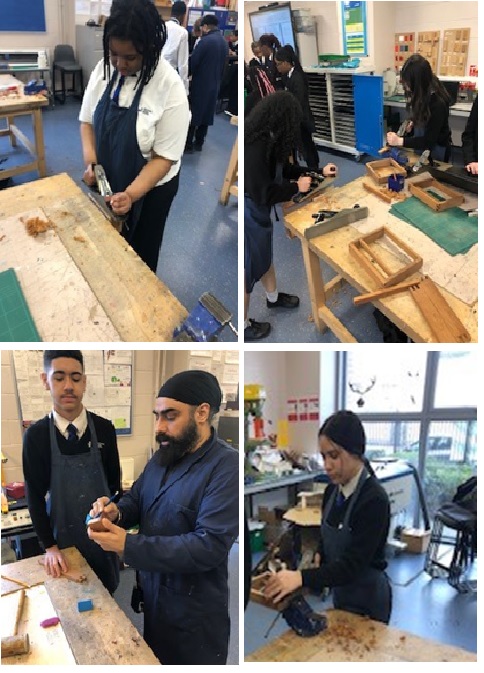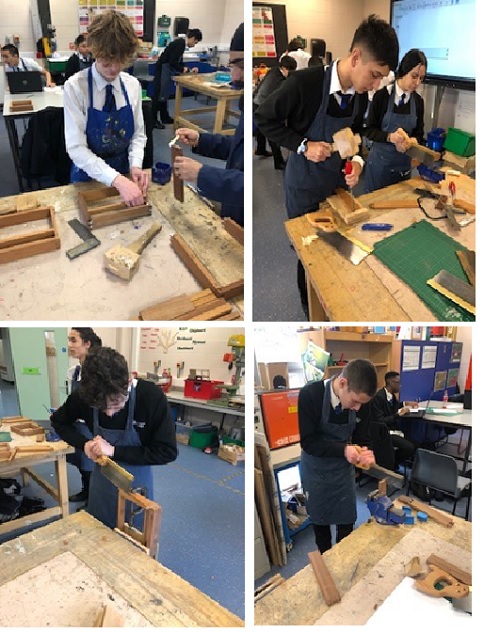 SOCIOLOGY
TRIP TO WATCH 'THE WOMAN KING'
On Tuesday the 7th of March, our Y10 sociologists went to Greenwich Picture House for a screening of 'The Woman King'. Watching through a sociological lens, students were able to identify the impact that culture has on gender norms. We really recommend you go and see it!
By the way we have Viola Davis's autobiography in the library. It's SO GOOD! This actress's backstory is inspirational...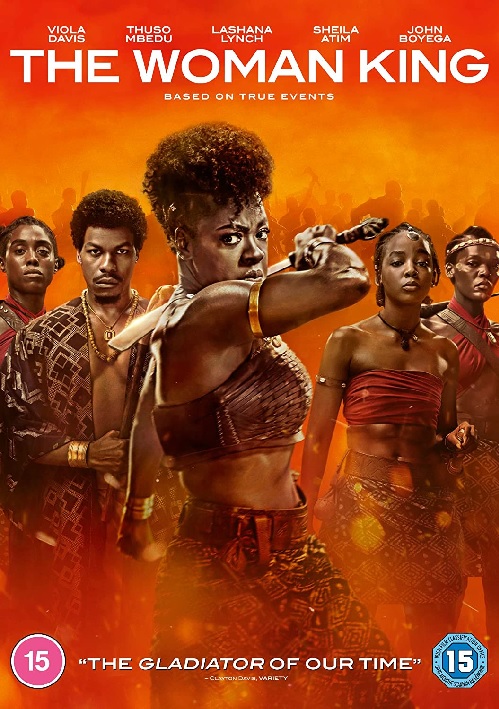 Xanthe in Y10 who went along on the night said:
'The movie was an emphasis on women's rights and if you broke the storyline down still further, it highlighted the stereotype that women are somehow 'the weaker sex' which is linked to our sociology learning of gender roles within the family.
It was an enjoyable film with lots of emotion and a much deeper meaning'.
Thank you Xanthe!

YOUNG VOICES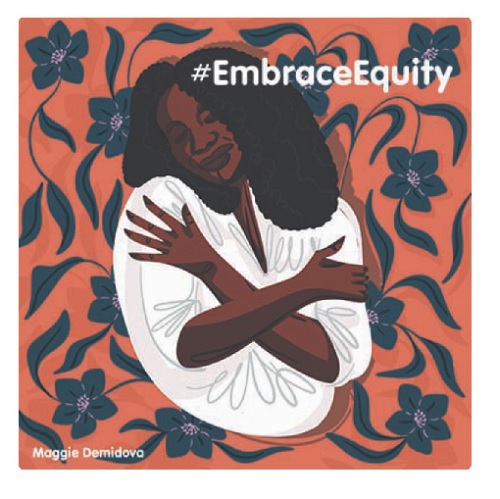 On Wednesday 8th of March it was International Women's Day. To mark this special occasion some of us attended an event at Lewisham Civic Suite organised by the Young Mayor's Team.
START OF THE DAY
As part of the day we attended a workshop on Equality and Equity. In our workshop we looked at the difference between the two and explored gender inequality experienced by women in society and experiences that people have had within their schools. In our presentation we included various activities and had lots of opportunity for discussion. We ended the session by asking students to make their own pledges to embrace equity.
MIDDLE OF THE DAY
There was a lunch break, where we engaged with students from other schools outside our workshop. After lunch there were talks from the Young Mayor and the Deputy Young Mayor. After that there were many activities to choose from, such as Mindfulness and Youth theatre.
During Mindfulness, two professionals introduced us to Mindfulness and taught us ways that we could be more mindful and aware. They also introduced us to journaling and gave us notebooks so that we could continue journaling at home.
During Youth Theatre, we sat in a circle with two professional backstage crew members and shared our energy rate. We played a game where we all worked as a group to break the ice. We also created sounds with our bodies and with items that were given to us and performed with other groups. We also helped with lighting and acting.
During creative writing we looked at the biography of a Black woman called Joan Anim-Addo, who is the first Black female professor of Caribbean literature in the UK. We used images and her biography to create a poem about her life and activism.
END OF THE DAY
At the end of the day, we all went to the hall and did a show and tell. Students from Deptford Green and the other schools had an opportunity to feedback on their day, share what they had done and what they had enjoyed most about the day.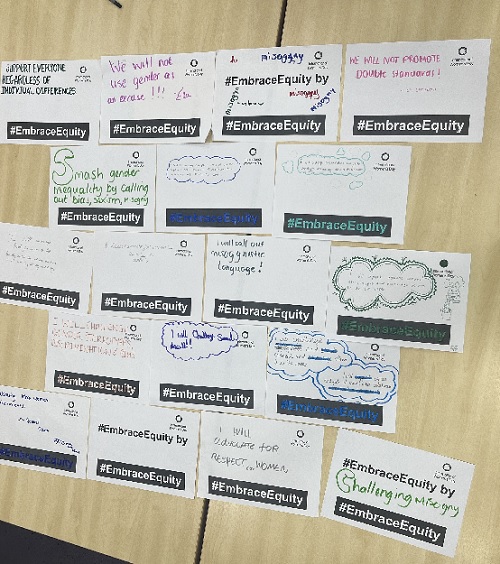 Thank you for writing this wonderful piece, Elizabeth and Ashley Y10

CELEBRATING INTERNATIONAL WOMEN'S DAY@DG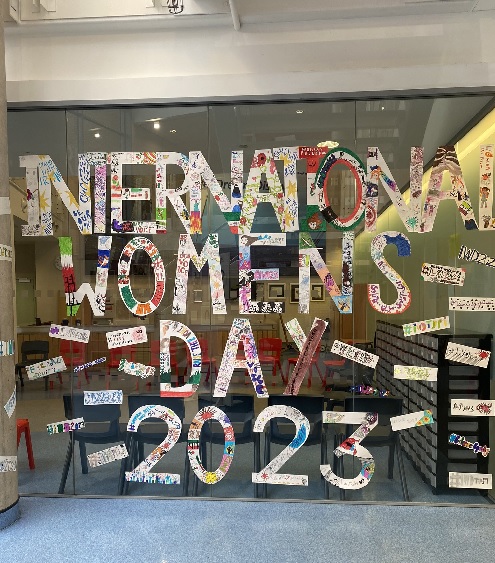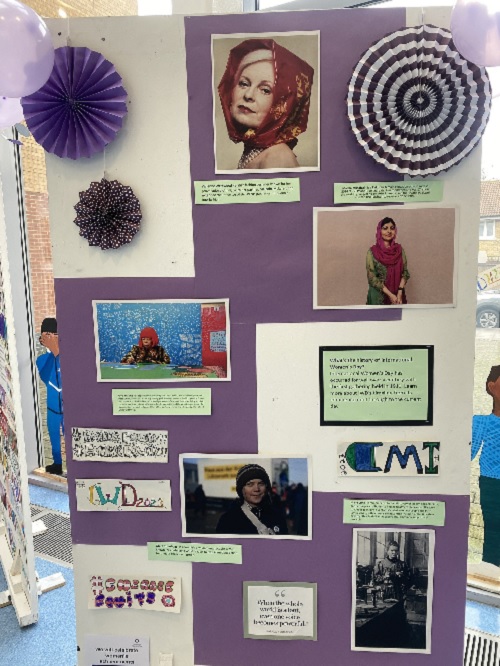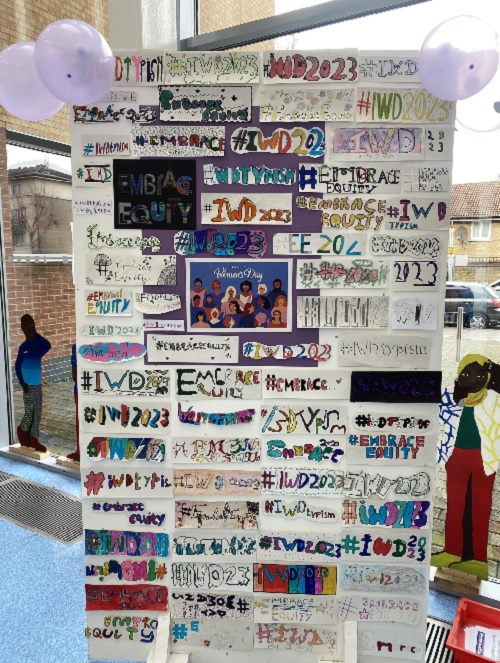 Y8 1 CLUB... AMAZING!
Mr Jones is SO proud of his '1' club students. They are consistently getting excellent praise and our LORIC rewards. On Monday they will be having an extended break and a Pizza Lunch for all their hard work and for being outstanding members of the Y8 cohort. Sadly some of those who achieved this are not in the photo - don't feel too bad for them though, they are off on the Skiing Trip!
What is the '1' club?
'Students who lead by example and have achieved an average effort grade of 1 across all subjects are invited to join The '1' Club. Demonstrating resilience and determination, students are awarded a '1' badge and gain privileges including queue jumps and a reward budget to spend as they wish.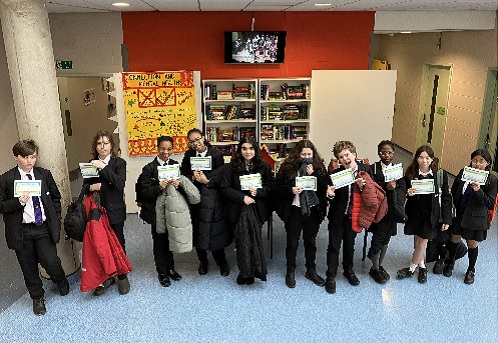 Y9 1 CLUB... SPECTACULAR!
Mr Aniagwu is so proud of his Y9 '1' Club students for consistently putting in inspirational effort to all their lessons and leading by example! They were rewarded with a special '1 club' breakfast.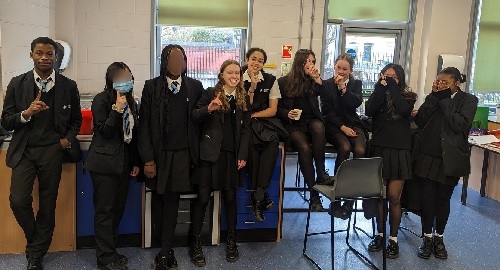 PSHE
Mr Heelbeck's Y8 PSHE class have been working with their chosen charity 'One In Four' to raise £1000 to support young people who suffer from abuse. If you want to read about One in Four, click HERE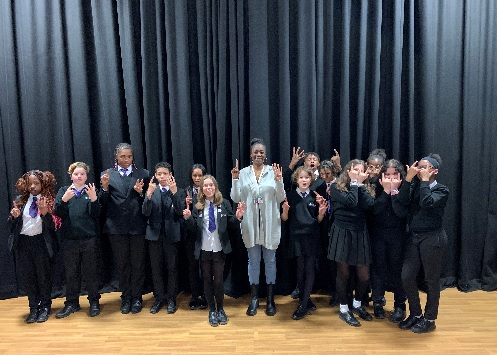 As part of our first give project in PSHE, Ms Jouavel's class have chosen to raise awareness and win money for the local charity, AFRIL.
AFRIL, which is short for Action For Refugees In Lewisham, is a charity who help reduce the poverty of local refugees and asylum seekers as well as cultivate their education and raise awareness about refugees and their rights.
Their services also include advice in welfare benefits, housing, education, health, and immigration; they also provide a Saturday school for children around the ages of 4 - 11. In addition, they have a foodbank for destitute asylum seekers and refugees. They also work with other organisations to maximise their support and service.
They have helped thousands of people become independent and get on their feet. For example, they were able to help a single mother from the Ivory Coast who had divorced her husband and was granted Leave to Remain. She had no recourse to public funds which made it very difficult for her to live her everyday life. In addition to that, she had no income, savings, or cash so she turned to AFRIL for support and guidance.
They supplied her with toiletries, food and necessities so that she was able to take better care of her three children. AFRIL also provided her additional support by referring her to a women's support organisation who were able to work with her through her trauma as a victim of domestic violence. She has now been given access to the support and advice that she so desperately needed.
We are asking if families can donate the following items to help AFRIL:
washing detergent for clothes (liquid or capsules) - no washing powder as it is too heavy
washing-up liquid
vegetable oil
instant coffee
toiletries - shower gel, toothpaste, soap, shampoo, conditioner
Please bring/send any donations to room 110
If you would like to find out more information about AFRIL- please click HERE
Thank you to Jeriola in Y8 for producing this informative and well-written piece.

TALKING OF GIVING... CHECK OUT OSCAR MORGAN IN Y7!
FROM OSCAR'S DAD DARREN:
This March, Oscar, my son, is swimming 5k throughout the month to raise money for GOSH Charity. Every day, more than 600 seriously ill children and young people from across the UK arrive at Great Ormond Street Hospital (GOSH). Every day, doctors and nurses battle the most complex illnesses and conditions, and the brightest minds come together to achieve pioneering medical breakthroughs. This extraordinary hospital has always depended on charitable support to give seriously ill children the best chance to fulfil their potential.
If you wish to donate to Oscar's swim through' Just Giving' to help him achieve his target, click HERE

DRAMA
Students who signed up to go to see 'Blood Brothers' at the Churchill Theatre in Bromley really enjoyed themselves as you can see from the photo but it was a late one. Home around midnight... but they loved it!
Marco in Y10 said:
'It was a thrilling immersive experience full of plot twists. I really enjoyed it!'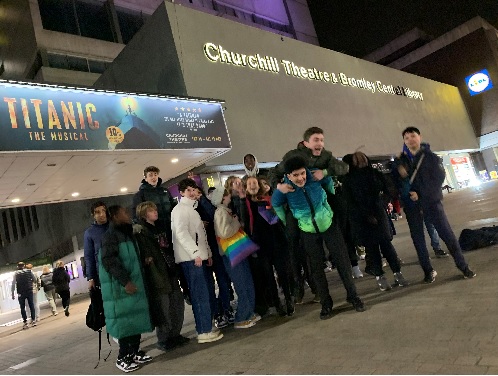 'Our House' rehearsals are well under way! Everyone working hard learning their lines...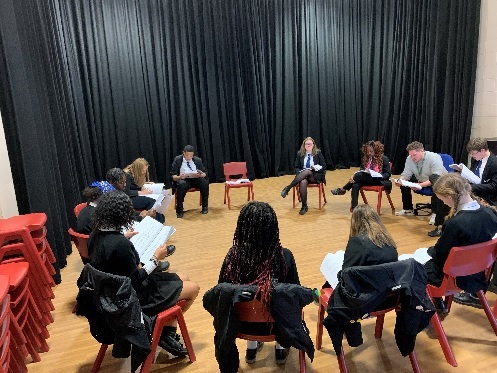 ART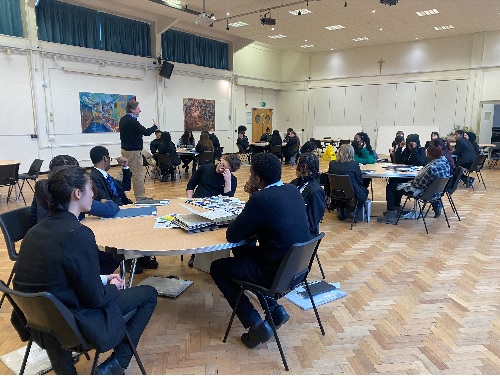 Y10 GCSE Art students went to Christ the King Sixth Form last Friday to speak to their Y12 Art students about their artwork, continuing art after GCSE's and careers in the arts. Students were brave and shared their artwork and were impressive in their articulation around their ideas with older students!
Lots of inspiration and excitement at seeing the CTK Y12 artwork. Well done Y10's! You represented us well.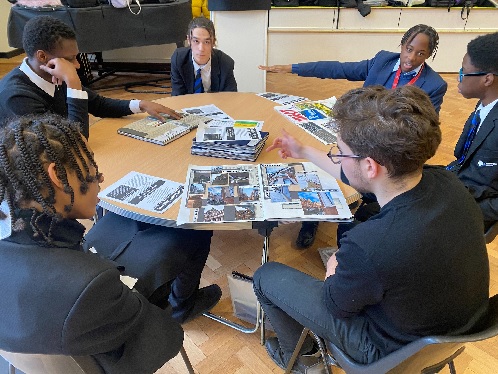 REAL WINS GIRLS MENTORING PROGRAMME WITH MULTI-AWARD WINNING AUTHOR AND LEADERSHIP COACH, MICHELLE MOORE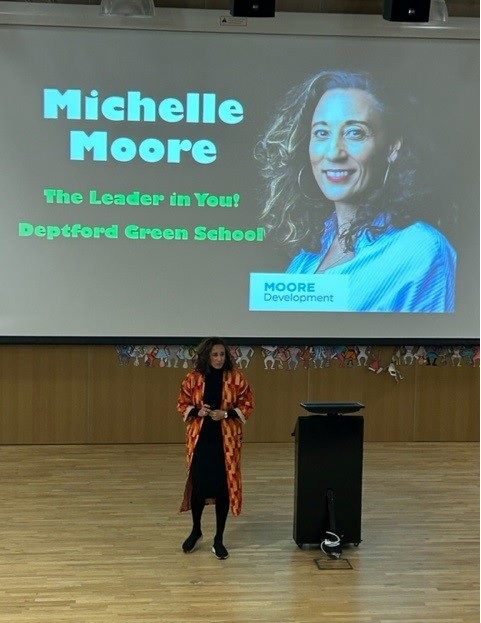 This exciting and innovative pilot programme includes inspirational assemblies and a four-week timetable of lessons which focus on identity, mindset, resilience and leadership.
Using her book 'Real Wins' as the starting point, Michelle shares her experiences and insights to support students with their personal growth as young women. Through readings from 'Real Wins', discussion and interactive activities, students work with Michelle to unpick these important topics. Deep conversations and fun activities make for an enriched experience for all. So far students have explored what their identity means to them as well as looking at tools and tricks to help increase self-confidence.

DEBATE MATE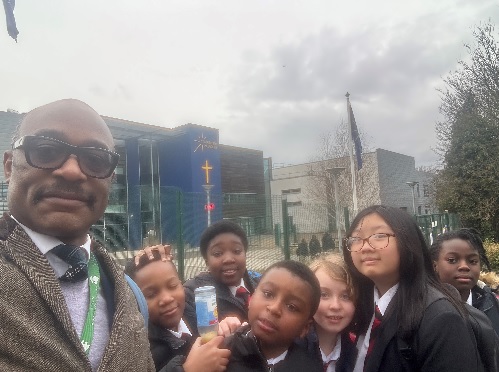 It has been an AMAZING journey with our Y7 debaters. Every Tuesday 15:15 to 16:15 they learn the debating craft and simulate debates that are of high quality and challenge. For a team of 6 Y7 students who have never participated in public debating before until recently, they really are doing so well reaching the second round of the Urban Debate Mate League. This is a league that is open to all debaters up and down the country. Our Y7 debaters did so well during the first round at the previous school we visited, and the scores contributed to the professional league. Wow! Initially, we had signed up for the novice league as this was the first time our Y7s had participated in public debating!
Not deterred by their loss at the end of the first round, we visited our second school to take on the best - the top of the league. This is a team that is first place amongst hundreds of schools up and down the country - a team that several schools avoid where they can. Not us! Not Deptford Green! Our Y7's embraced the challenge and performed their best debate in round 1. This took place on the 6th of March at St Matthew's Academy. St Matthew Academy is top of the Urban Debate Mate League, a school that Ms. Thurston knows all about! It was genuinely exciting...
The motion for round 1 was "Should under 18's be signed up for a professional sports contract?" Deptford Green was the opposition and St Matthew's were the proposition and what a battle it was! Joshua led, followed by Hepzibah, then Ashlee and the summariser was Efeosa. The judge was amazed by the standard of vocabulary and critical thinking that both teams presented. He made a point of congratulating Deptford Green's performance considering their novice background. The feedback that stood out the most was "The delivery and style was outstanding, they just need to work on their content and structure."
The motion of the second round was "Is being viral on social media harmful?" Deptford Green was the proposition and St Matthew Academy were the opposition. What an extravaganza of pure entertainment it was! Our team really enjoyed themselves, perhaps a little too much in the end as sadly they compromised their etiquette somewhat and lost the battle but nonetheless we are SO proud of them! It is all a learning curve and they are getting better and better.
Well done Y7 debaters! Big up every time! Look out for the battle of the cup coming soon.
Thanks to Mr Ramsey

CAREERS
Y10 STUDENTS LEARN ABOUT ARCHITECTURE
Year 10 Design and Technology students enjoyed learning about a career in Architecture with The Construction Youth Trust. During the workshop, students developed thoughtful and interesting designs in 2D and 3D and we hope that it will have sparked their imagination and that any potential architects in the room will continue to develop their skills and experience.
If you are in Year 10 and interested in Architecture or want to explore other careers in the Built Environment, such as Interior Designer, Engineer, Project Manager or Marketing Manager have you considered registering for our work experience week?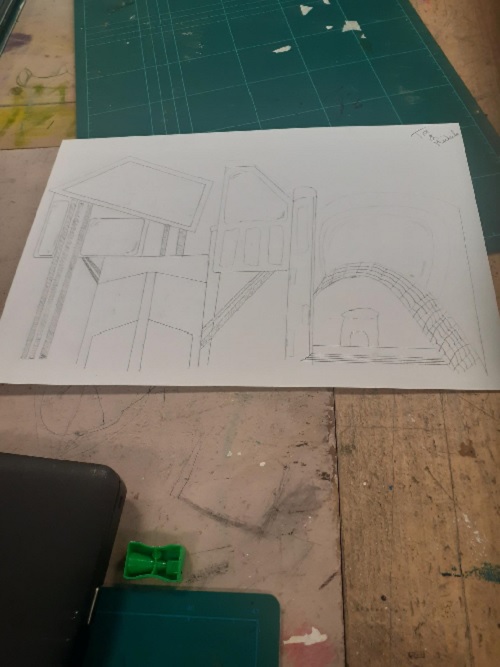 NEW YEAR 9 ENVISION TEAM MADE A GREAT START!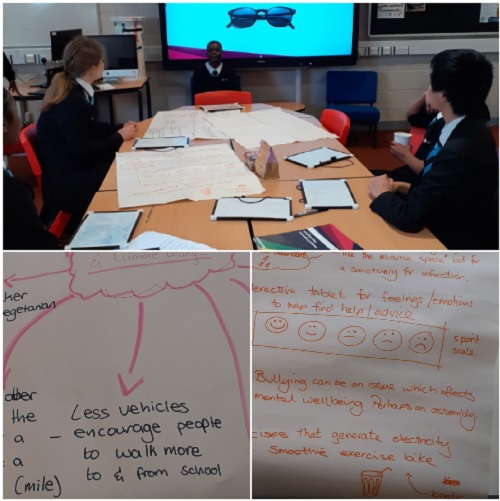 We are thrilled to have a new Y9 Envision Team running alongside our 2nd Y10 Team for this academic year. They have already visited their Business partners at Baily Garner, a company that provides a range of construction consultancy services and put their communication and determination to the test. Their Tuesday afternoon meetings have seen them coming together as a team and their coach Luba reported that their first public speaking exercise showed amazing potential. The team is absolutely fizzing with fantastic, exciting ideas and we can't wait to see how they develop their project.
The Envision Programme is available to Deptford Green students in Y10 every year and now we are trialling it with Y9's. This enrichment programme aims to develop confidence and key employability skills whilst developing a social action project and getting insights into a local business. Students are supported by their coach who works with them every week over twelve weeks. It is a fun way to develop determination, teamwork, creativity and communication skills and, of course, we have snacks! If you are in Y9 and want to join, we might still be able to make room for you. Contact Ms Nembhard at cnembhard@deptfordgreen.co.uk or 0208 469 4896
"Never shy away from opportunities…"
Click HERE to see what happened when Li'Ana in Y10 embraced opportunities available at Deptford Green.

HAVE YOU BEEN GREAT THIS TERM? #BEGREAT AND RECORD ONE OF YOUR EXPERIENCES ON XELLO
All students at Deptford Green have an account and have access to Xello.
This week, we challenge all students to upload at least one experience to their Xello portfolio!
Have you attended an after-school club or other enrichment activity this term?
Maybe you made a delicious risotto in cooking club? Did you design an amazingly elegant and sophisticated dress out of recycled newspapers in Junk Kouture club?
You learned to ski? You have attended a Drama club out of school or auditioned for our school's production? You completed or joined the Envision Programme?
Are you proud of your team's victory after a tough Football game against another school?
You visited a gallery or another workplace? You applied to a university summer school? Maybe you built the most amazing model during science week?
Whatever you've accomplished this term, get involved. We want to see the incredible variety of interests and achievements of all Deptford Green students and we can't wait! Don't be shy, BE GREAT AND BE PROUD!
What we are looking for:
Evidence of what you have done uploaded to your portfolio. It could be a picture, a photo, a certificate, a video, a link to a website or a paragraph you have written about your experience. Your choice, but we need to see clearly what you have got involved in.
A reflection (a sentence) on one thing you enjoyed, one thing you learned and one thing you found challenging. Link it to LORIC Skills and our GREAT values.
Deadline is end of term – 3rd April - and all entries will be entered in a prize draw (gift voucher).
Watch this video on how to showcase your work with portfolios - click HERE
Click HERE to learn how to access Xello from home (previous newsletter)

SPORT @ DG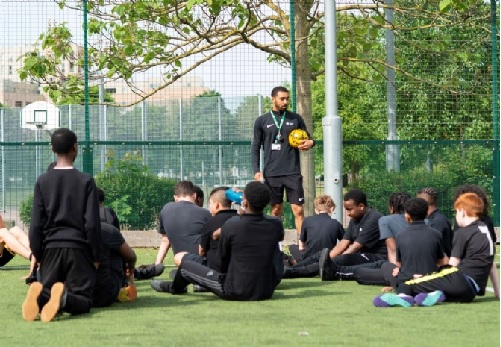 Our students continue to demonstrate their sporting prowess at various fixtures across the borough. Well done to all for your passion and enthusiasm. We are proud of you! To read all about DG sporting achievements, click HERE

SCIENCE
Last week was Science Week and there were many exciting and creative activities that went on in school to celebrate it. Watch this space in the next edition to read a fuller report!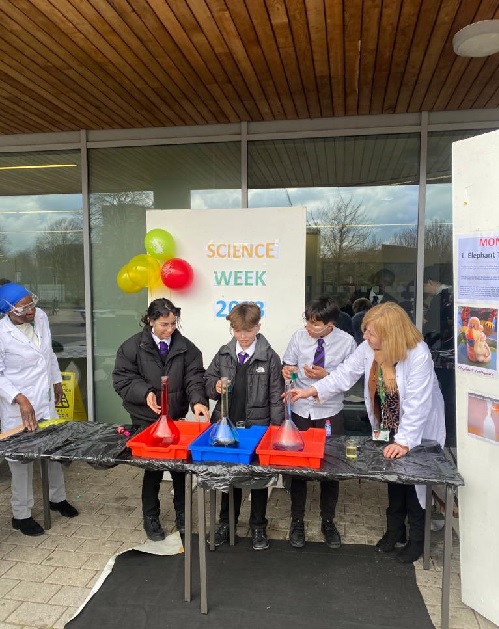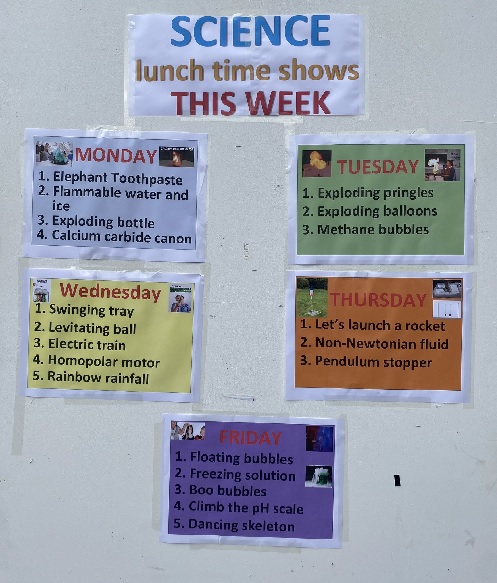 READING
I have been working with a few lovely Y7 EAL students who are having Reading Intervention to strengthen and improve their reading skills. Today we met at the end of the day on a Friday and for me, it truly was an uplifting end to the week where their smiles made my day. To hear students read when their confidence is improving is a genuine joy and I hope that when they take their Reading Assessments after the Easter Holiday, we will see their Reading Ages go up, not for myself but for them as it is fantastic to see them happy with their successes!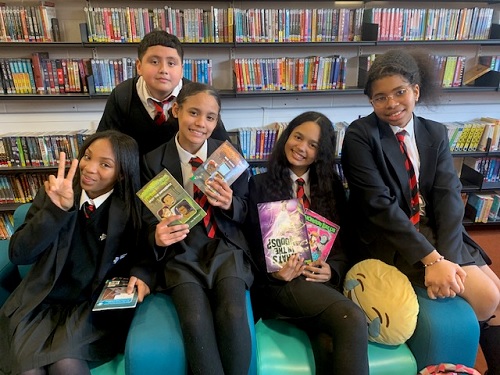 WHAT'S COMING UP?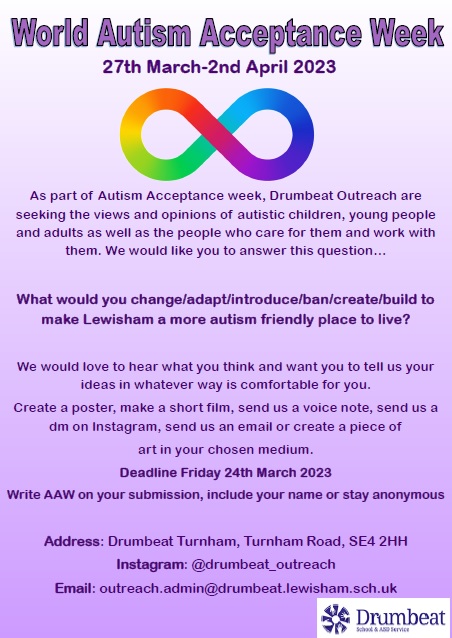 Calling all Deptford Green staff and students! Please share your views with us during Autism Acceptance Week. See you on the ground floor, by the staircase!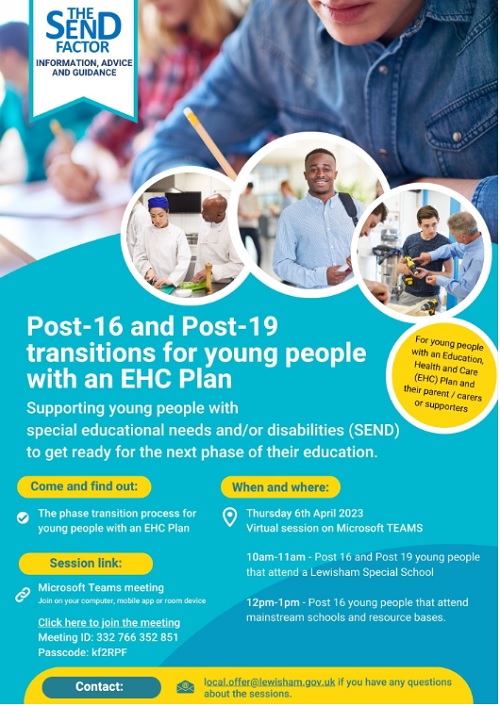 WORK EXPERIENCE ASSEMBLIES ALL NEXT WEEK LEADING UP TO Y10 WEX WEEK FROM MONDAY 22ND MAY...
Parents/Carers, please have a look through the slides below and talk through them with your child if you feel this WEX route would be good for them.
Feel free to contact Ms Nembhard by emailing her: cnembhard@deptfordgreen.co.uk or call her direct on 0208 469 4896
Thank you.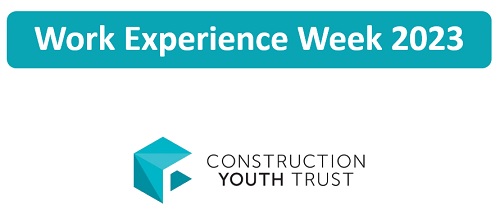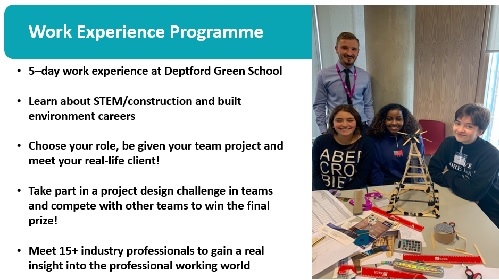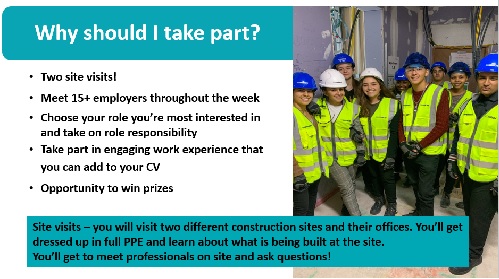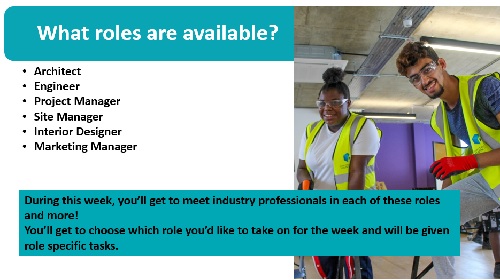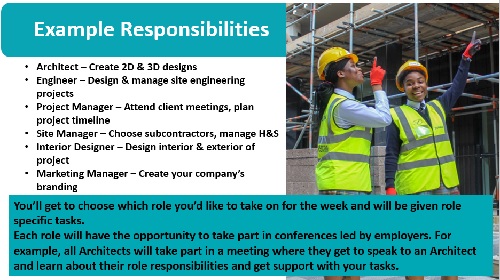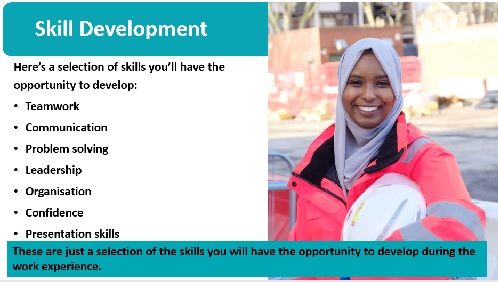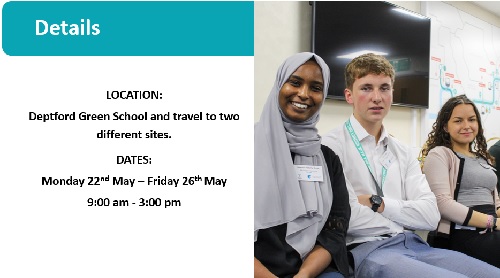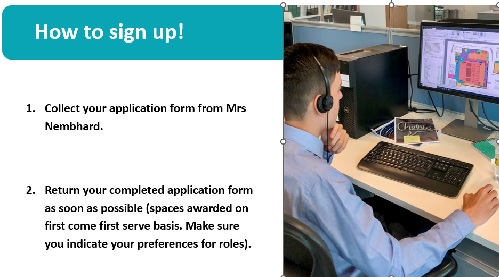 STRIKE! TEACHERS & SUPPORT STAFF CAMPAIGNING FOR MORE FUNDING FOR SCHOOLS
Our amazing and hardworking teachers and support staff were out the front of our school on a picket line on all 4 days of the strikes chanting for the government to increase funding to education. The support from the public and our colleagues inside the building was overwhelming - Ms Thurston was out encouraging us and taking some of our Twitter photos! Cars were tooting their horns in support - it was really encouraging to know that people recognise that schools need more money! Our young people need more help, investment and resources and Deptford Green staff were proud to be a part of that movement. Each strike day they joined the marches and the rallies. We love our school and want the best for all our school community! Thanks especially to Ms Jouavel who was our wonderful Battle Chief!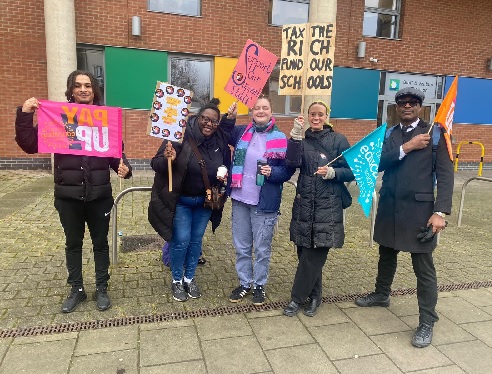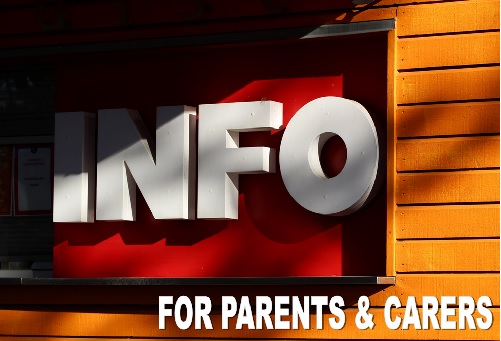 SUPPORT FOR FAMILIES IN PLACE2BE SCHOOLS
If your child attends a school supported by Place2Be, you can access free resources and services as part of our mental health support for the whole school.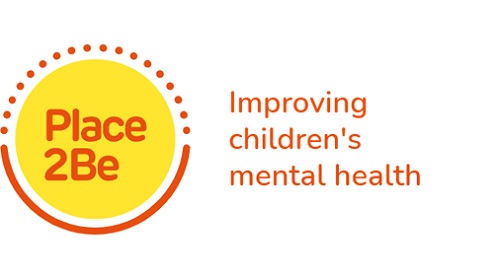 Place2Be is an AMAZING service that we are lucky to have in our school.
Check out all these resources that you can access. Click HERE

INDEPENDENT LEARNING UPDATES: REVISION @DEPTFORD GREEN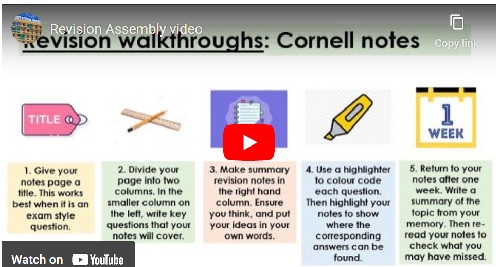 From Mr Callaghan:
We have been busy making some improvements to the Independent Learning area of the school website.
The revamped page includes 'revision walkthroughs' which are useful strategies which students in all year groups can use to consolidate their learning in class. We have also 'subject guides' which contain all of the key revision advice for each GCSE subject studied at Deptford Green.
Check out the Revision Walkthroughs on the page HERE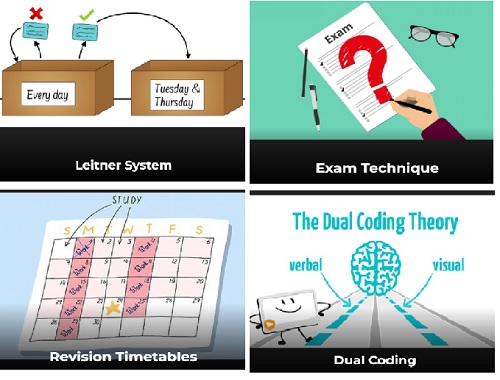 TALKING ABOUT KNIFE CRIME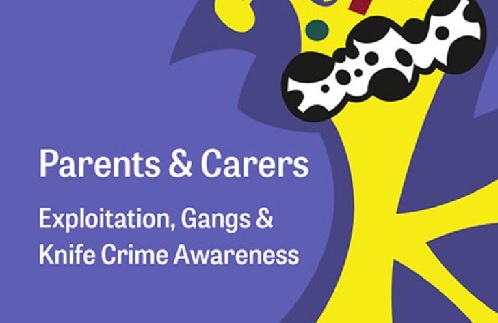 The Anti-knife crime charity, The Ben Kinsella Trust has launched a FREE online course for ALL parents and carers.
EXPLOITATION, GANGS AND KNIFE CRIME AWARENESS sessions are a two-part course delivered over two evening sessions (March 21st and 28th 7-9pm) These sessions are delivered by an ex-Met Officer and come highly recommended.
Parenting children and young adults is hard, sometimes it can be scary and overwhelming with news stories and social media influencing how safe we feel our children are and the risks they may face in today's climate.

Join our FREE workshop on zoom to learn more about what is regular teenager behaviour or what might be signs that a young person in your care is being groomed or exploited. Click HERE to book your place.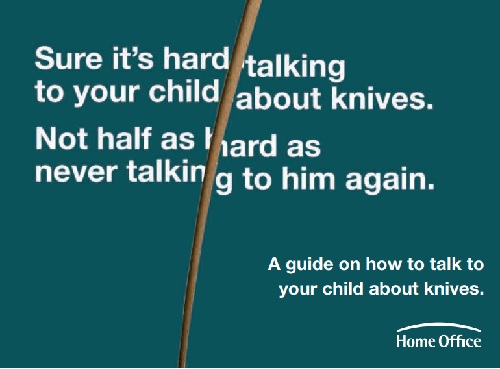 We know this is difficult to read but if you are concerned at all, click HERE to read the Home Office Advice Leaflet or if you have ANY concerns at all about your child, always remember that we have our excellent Safeguarding Team to help you and our Safer Schools Officer Gary Arterton who will always talk to you and give you advice. Remember we care and will be here to help you as much as we possibly can. Click HERE to contact the Safeguarding Team


We are delighted to introduce you to Parent Zone, a social enterprise working to improve outcomes for children by helping parents feel more confident, safer and in control online.
Parent Zone Local is a free service of media literacy support in Lewisham, offering parent workshops, support for professionals, and an extensive library of resources – including information, activities, guides, games, and more.
We are currently gathering information about how parents/carers and children can learn important skills for engaging confidently and safely with life online. This will help inform the way we design and evaluate our resources and services, to meet the needs of your area.
Please could you take a few minutes to fill out this survey so we can gather your invaluable insights. Please click HERE