WHAT'S BEEN HAPPENING AT SCHOOL?

Lots of our Y7 & 8 readers were reading away in the last 4 weeks of the Autumn Term and on Monday 16th, Year 7's were awarded with their promised LORICs and certificates. Our overall winner Zac read 25 books in the month and got himself 250 LORICs! Congratulations Zac. You truly are outstanding...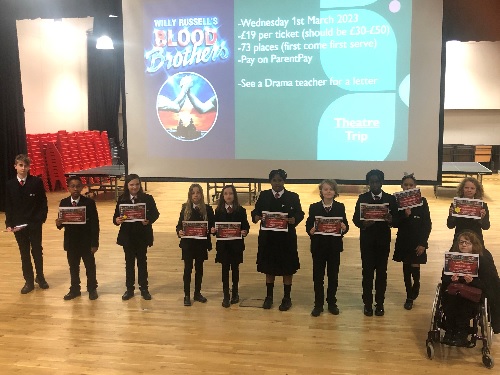 CAREERS NEWS
Y10 TRIP TO RAVENSBOURNE
Report kindly written by Xanthe - excellent work Xanthe!
On a textiles trip to Ravensbourne University we got to experience a great workshop which involved creating textiles using our creativity and fashion designing skills.
The first half of the workshop had the objective to create 5 textile samples relating to nature, contrast or freedom/restriction. We were encouraged to be abstract and use mixed media to create samples by sewing, twisting manipulating and wrapping the fabrics. Once we had produced our samples, we had to fashion our pieces to become outfits for models.
We first worked with the natural fabric but later printed photographs of our work to cut up and redesign as fashion. It was an enjoyable workshop that gave us insight into Fashion Design and Textiles work as well as a chance to tour the university.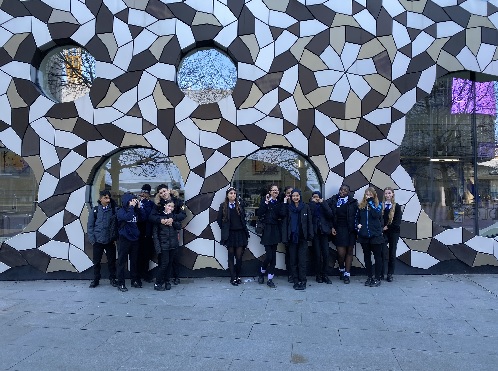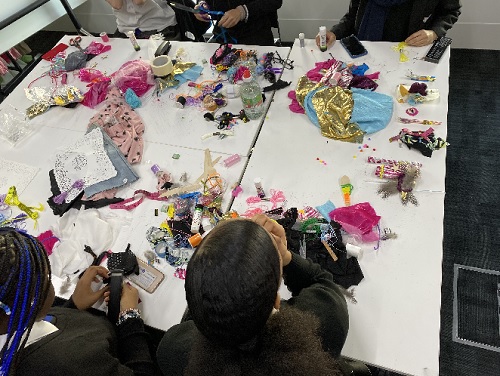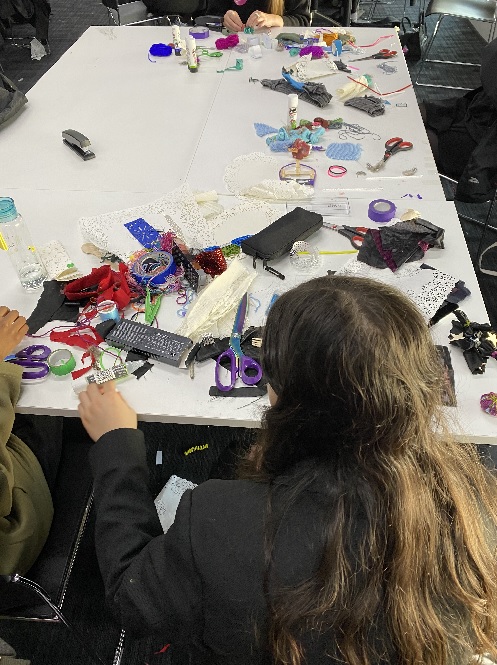 YEAR 10 C0MMUNITY APPRENTICES
This week our Y10 Community Apprentice Team travelled to AXA in The City where they presented their project to an audience of business volunteers and other students from across Lewisham.
The judges panel highlighted their creativity and passion for the issue they had chosen to focus on. Their deep commitment to mental health was palpable and their business mentors at Glenmont Partners commented that working with the group over the twelve weeks has resulted in interesting conversations about mental health and well-being in the workplace.
We are very proud that Li'Ana in Y10WA was presented with a Jack Petchey achievement award. Well done Li'Ana! Her team's words when read out to the audience triggered a ripple of emotional response across the audience and everyone was really touched.
"Li'Ana is committed to making a difference. From the very start, Liana has continued to put forward "great ideas" and she "has worked hard and always attempted to share her ideas, helping others and no matter what, she contributes trying to do or make of the situation whatever she can if she is struggling to understand it". This is a clear example of Li'Ana's determination and "her demonstrating resilience and supporting others". She is passionate about the social issue project and her team. Her peers applaud her for her bravery because "she is really open about her experiences and how her struggles have affected her". Li'Ana shows "bravery and always shares ideas with the rest of the group". She has "taken charge and showed great leadership skills". Li'Ana is thoughtful and her peers describe her as someone who "works hard" and "has never failed to explain things to me if I don't understand it". In this way, Li'Ana motivates her team and spreads kindness wherever she goes. She uses initiative, thinks ahead and is always helpful. She welcomes new challenges and opportunities outside of her comfort zone. Li'Ana updated her absent teammates and helped them feel organised and ready to pitch in week 6. She planned ahead and suggested sitting in groups to prepare for the pitch. This is a clear example of how integral Li'Ana is to the team and how she shows compassion towards others. "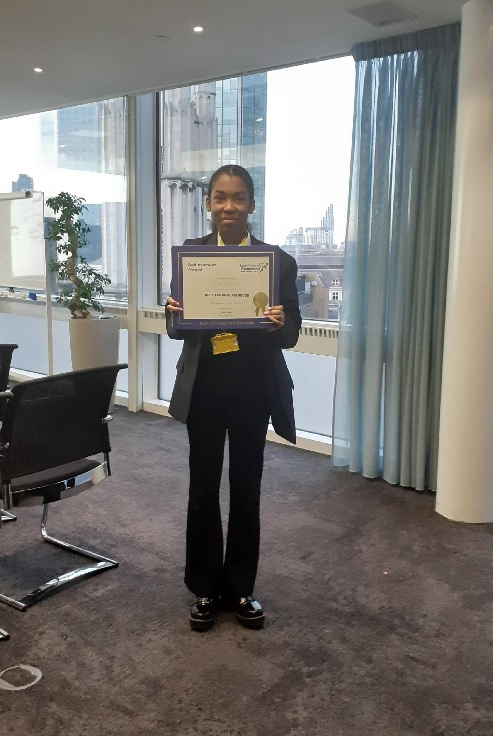 If you are in YEAR 10 and want to take part in Community Apprentice, develop your key skills and a project to tackle an issue you care about and be paired with business mentors you will visit in The City, do sign up for our taster session on Monday 30th January from 15:05 till 16:10.
See Ms Nembhard in the careers hub or email cnembhard@deptfordgreen.co.uk

BUSINESS
Year 10 Business (& Enterprise!) did REALLY well selling their Candles at the recent Y10 Parents Evening which was really well attended.
They completely SOLD OUT and have made over £100 and their persuasive sales patter went down well with the Parents who bought them! Obviously they have the gift of the gab and Mr Aniagwu has taught them well...