WHAT'S BEEN HAPPENING AT SCHOOL?

TAKE A LOOK HERE. CLICK ON THE ARROW
GET READING DEPTFORD GREEN!


ALL THINGS DT: MR CURRAN
YEAR 7:
DT has had a very busy Autumn term, the same as many of the other departments in the school. Y7 students have been designing and making a variety of projects including, Desk Tidies, made from wood and acrylic and Block Robots made from card nets. They have also been cooking in food technology where they have been making oatmeal biscuits, cup cakes and apple crumble. Other groups have been learning 3D drawing techniques such as 1 and 2 point perspective and Isometric drawing. Well done to Albert and Oli shown below!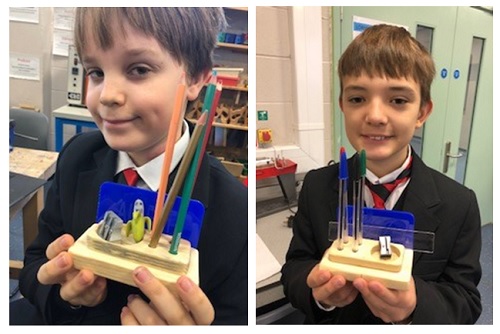 Year 8:
They have been designing and making wind chimes using hardwood and aluminium and a charity collection box. In food tech they have been making leek and potato soup, festive cupcakes and chicken goujons. Sounds yummy! Well done Olabisi 8LA

YEAR 9:
They have been designing and making lights using LEDs and USB leads and learning about corporate identity and logos. In food tech they have been making curry, learning knife skills and all about health and hygiene.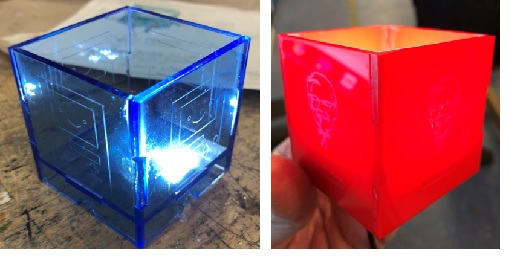 YEAR 10:
This year group have been working on a mini lighting project to build their practical skills and they are currently learning about wood working joints and they will employ these skills to make a numeracy-based game called 'Close the Box'
The Y10 food group have been working through their skills and nutrients section and making a variety of interesting dishes.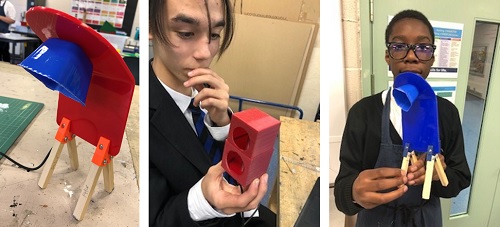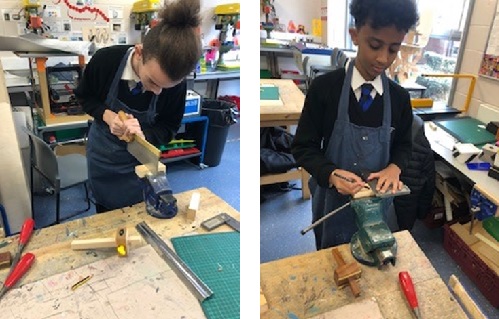 YEAR 11:
This cohort have been working on their GCSE NEA, where they have been investigating their context and carrying out research. They have also produced some design ideas and have now started prototyping using card. We look forward with anticipation to their final GCSE pieces. Watch this space for all the talent that will come out of this group!

DT was also involved in the Deck the Halls evening where Mr Djordjevic led a group of Y9 students in preparing, cooking and serving chicken kebab wraps to 150 visitors to the show. The food was delicious and went down a storm!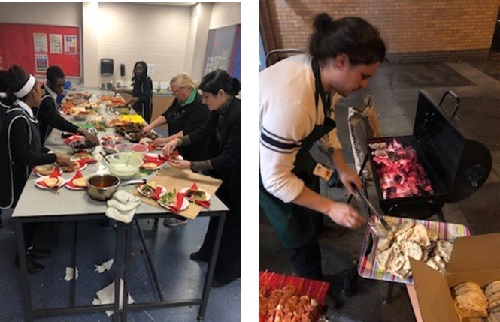 Mr Curran also organised the raffle in which we were very fortunate to have many local sponsors, the prizes from whom were including:
Dinner For 'One Hundred Pizza' donated by Jacob Stuttard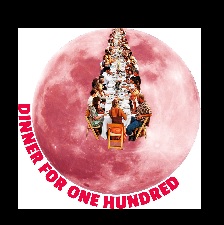 One Haircut at DKUK donated by Karen Cornwell
Second Haircut donated by Amanda Anderson
Amazon voucher donated by Samantha Shananhan
A Cinema Voucher donated by Toby Jones
A HUGE THANK YOU TO ALL THOSE PARENTS & FRIENDS OF DEPTFORD GREEN WHO KINDLY SUPPORTED US BY DONATING THESE WONDERFUL RAFFLE PRIZES! YOU HELPED MAKE OUR DECK THE HALLS EVENT A ROARING SUCCESS!

DECK THE HALLS SHOWCASE EVENT... SIMPLY WOW!
Here's a sneak preview of some of the photographs that will appear on the website very soon, but do have a look and marvel at the wealth of talent and the amazing group of students, parents & staff that make up our Deptford Green Community!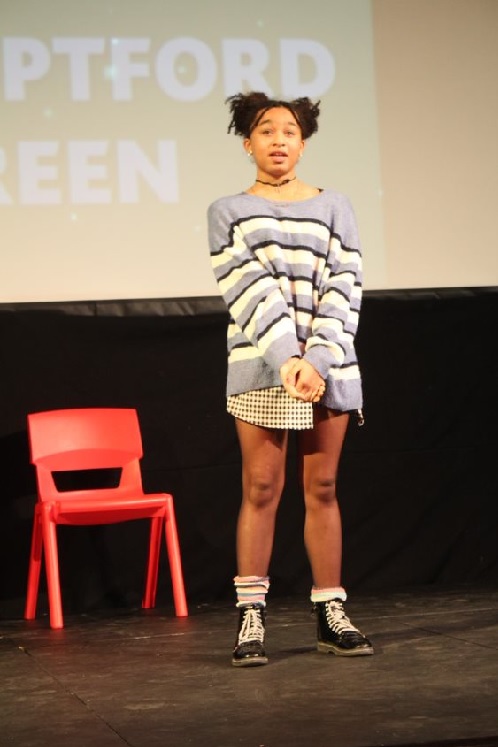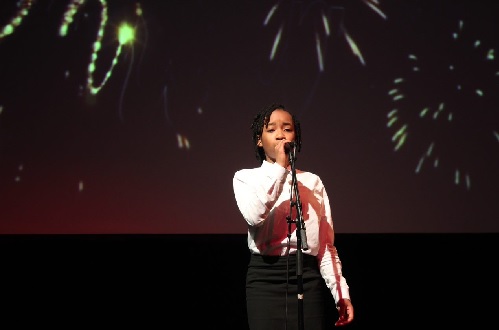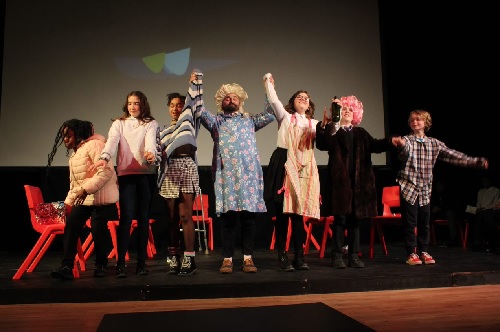 From the moment our visitors walked in to the building, they were greeted with a sense of creativity. An amazing Art Gallery and music and food & refreshments. What a welcome! Deptford Green is rapidly developing into a true hub of Art and Culture. Our students possess so many talents and Deck the Halls was a culmination of all that wonder and talent coming together. Thank you to all our lovely parents and students who came out to support us and to the staff who put the event together and put an extra shift in on the night after a very long term of work and teaching!
A HUGE thank you to Lisa, Jo and Becky some of our parents who helped serve drinks and refreshments on the night and to Eloise who helped serve refreshments at the Y11 Parents Evening last week. We are lucky to have such supportive parents!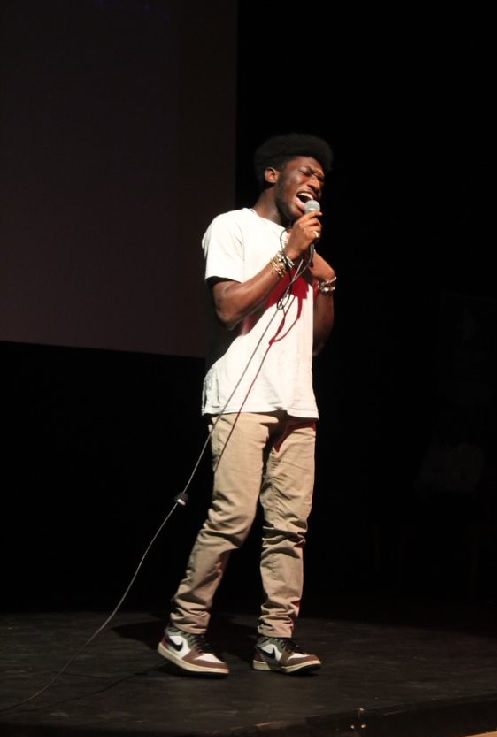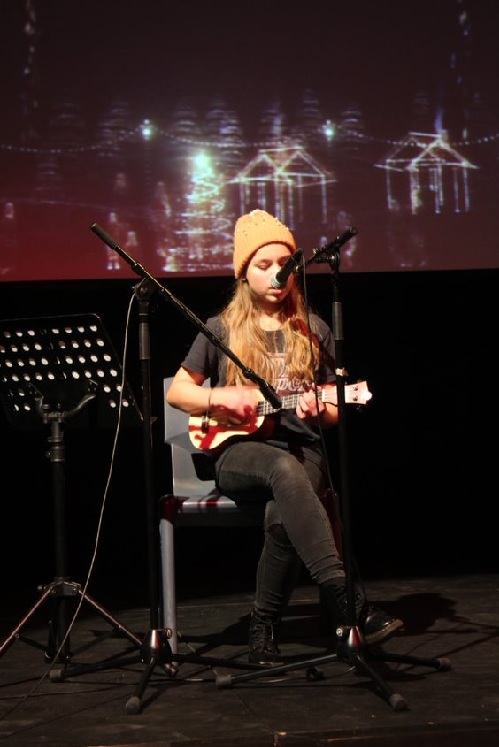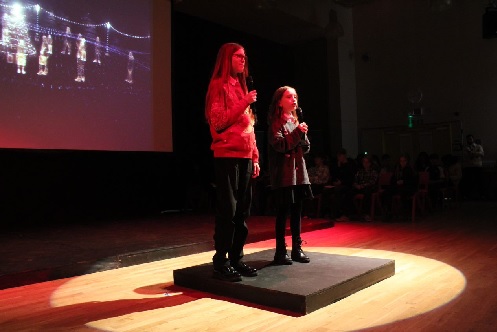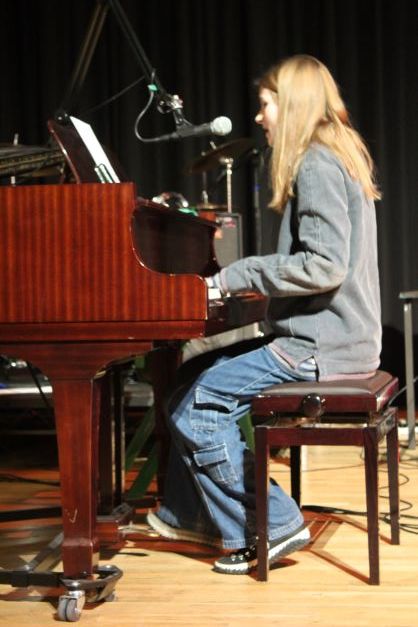 PORTRAIT COMPETITION AT THE DECK THE HALLS EVENT
The portrait competition was a great success! We had lots of exciting entries in different mediums exploring the identity of friends, family and public figures. The three winners were as follows:
1st prize - Joelle (y7)
2nd prize - Sidney (y8)
3rd prize - Dulcie (y8)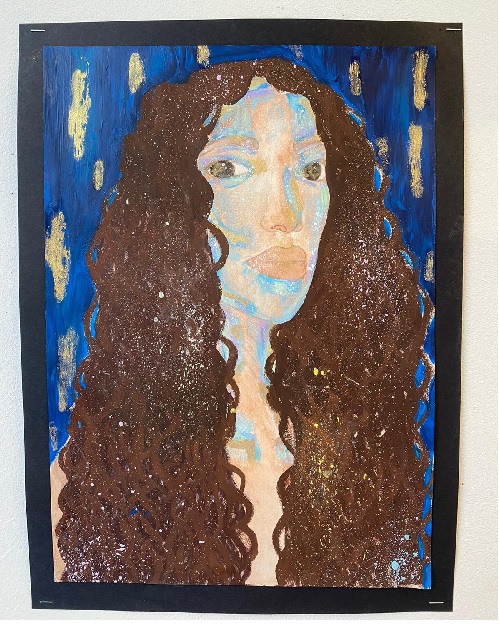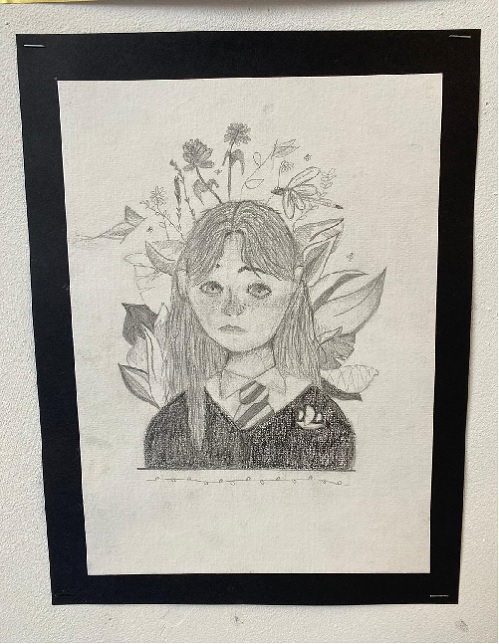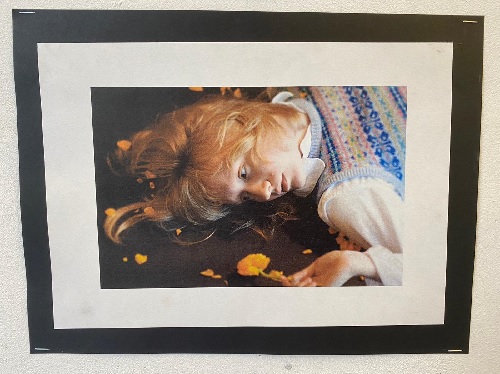 YOUNG MAYOR REPORTS BY J'ADORE & ARTURS Y10
Civic Suite Catford - Friday 18th November 2022
J'Adore 10GI & Julia 10GI:
Several proactive year 10 students from our school made their way to the Civic Suite in Catford. We took part in multiple activities that included addressing stereotypes and racism in schools and other issues centred around young people in Lewisham.
We socialized with many other schools and Young Mayoral candidates, gaining their views and opinions on social issues in Lewisham. We played games and put together power points to show how diverse our schools are when it comes to culture.
By taking part in this process, we gained knowledge on our national parliament, the local council, some even signed up to becoming young mayoral candidates. The Young Mayor's Team offered us the chance to display what action our school has already taken to combat racism and other key issues. Thank you
J'Adore & Julia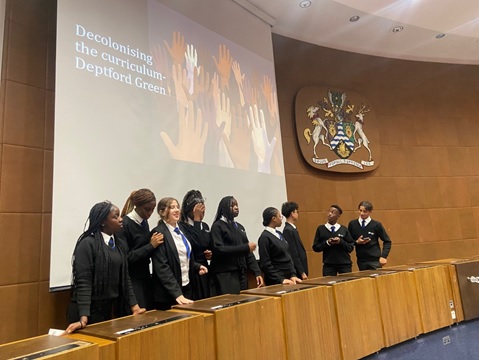 ARTURS 10CR:
We went on Saturday and Sunday to Lewisham Local to have our training so we can further our candidacy for the Young Mayor of Lewisham. I went there and was greeted by Katie and other staff that work there. I received a folder with all the information I needed for the process and signed my official application.
After that, I got to meet other pupils from Lewisham schools. There were some great young people there. Then the formal part of the day started and we said our names and why we wanted to be the Young Mayor of Lewisham. We then had another activity where we had to meet a person we had never spoken to before and had to talk to them and find out 2 things about them and why they also had applied for the position. Because of this activity, we got to know more people and made more friends. After we finished with that activity, we went to the Lewisham Theatre where we did our photos and got ready for our videos. A professional person recorded us and will edit the videos. Some people did it, but then sadly there was a fire alarm and everyone had to go out so they had to send us home but we had to come back the next day to complete our videos.
I came back the next day and got greeted by Katie again. I did my video, even though I was very nervous throughout the process because I kept on forgetting about my lines that I had practised only 5 minutes before! It felt pretty good though after I finished the video and then I felt more prepared for the next stage of this process.
Thank you Arturs and well done to both J'adore, Julia and Arturs for writing about their experience and we wish all our DG candidates the best of luck as they go forward in this process. Do DG proud all of you! Our candidates are: Isabelle, Felix, Michael, Arturs, Ella, Lucia, Hibaaq, Julia and J'Adore (not pictured)

STAFF PANTO: MARIA FAIRY COMES TO DEPTFORD GREEN! OOH ER!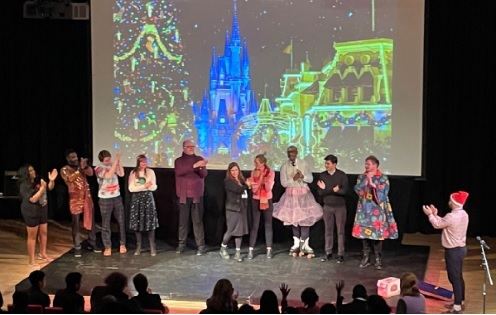 A small and dedicated group of staff rehearsed for several weeks led by our director Jamie Heelbeck to create the magic of Christmas, oh yes we did!!! But this was no usual Cinderella, downtrodden and needing a man to help her out of the mire. This was a Cinderella who took her life by the collar and shook things up and when Prince Charming turned out not to live up to his name she declared, 'I don't need no man' and she embraced her new world order fearlessly.
Mariah Fairy, the godmother on roller skates, did her best to make Cindy's life better, but Cindy had all the power she needed within herself to make the good times roll. Ugly sisters kicked to the kerb, holding down a job and managing the household, like generations of women before her, strong, empowered and fabulous!!
The Year 7 and 8's enjoyed the show and made all the right noises. Booing the baddies and cheering the goodies along the way. They loved the novelty of their teachers taking a risk and putting on some greasepaint, wigs and the occasional frock to entertain and have a shared laugh. The Year 11's were a more sedate crowd, but enjoyed the show nonetheless. The Christmas spirit soared, loud and clear and true. A new tradition for The Green, an annual panto to usher in the yuletide.
Felicitations to all.
Thank you Mr Paish!

OPEN MIC WITH MR HILL OUR NEW HEAD OF MUSIC & SOME PRETTY AMAZING STUDENTS!
It was the first real Open Mic performance that was open to people not involved with the club. The turnout was great with an audience of around 20 in the music room. Its main purpose was to offer the pupils performing in the Christmas showcase a chance to try out their performances in front of a real audience before the night itself, but we had more than just those involved in the show.
Genres ranged from heavy rock to modern pop ballads, with lots in between.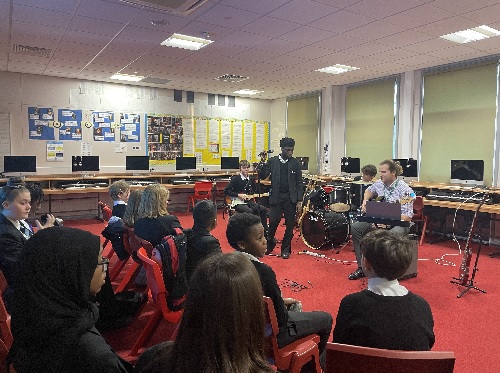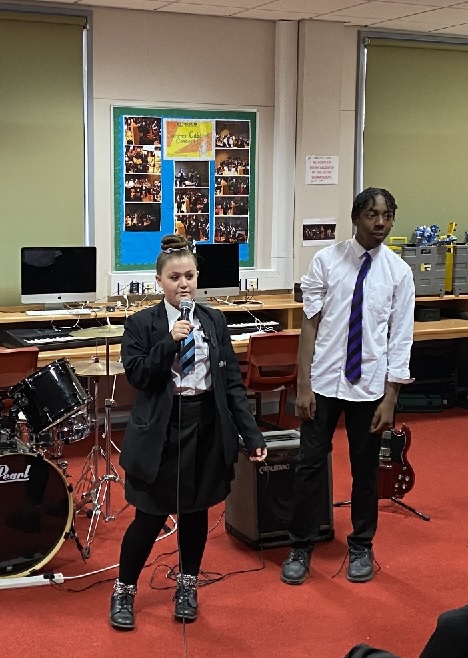 The performers involved were:
Jos 7, Alfie , Jordan (filled in last minute on the drums), Solomon, Kari, Kehinde, Stevie, Ky-Mani, Inalen, Lola and Kate
Thank you to all of you. You were brilliant! Mr Hill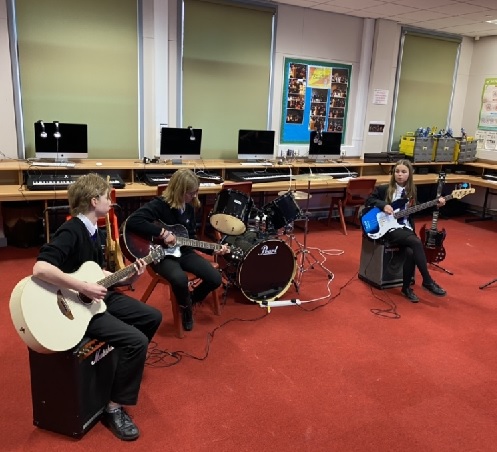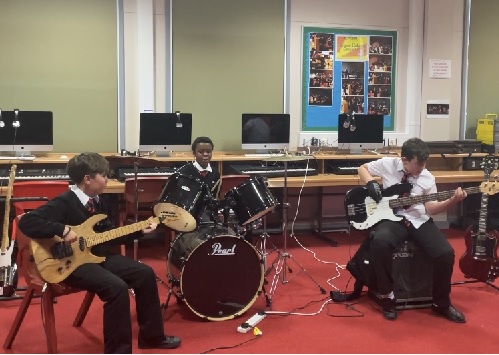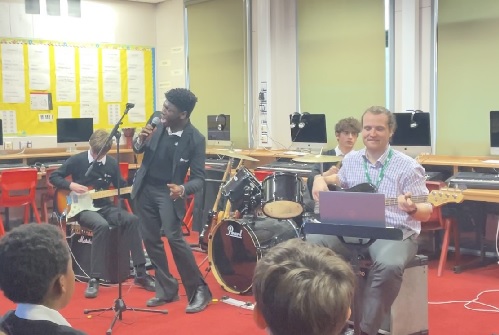 Thank you Mr Hill!

HOT OFF THE PRESS! CLASSROOM DECORATIONS FOR THE SEASON TO BE JOLLY!